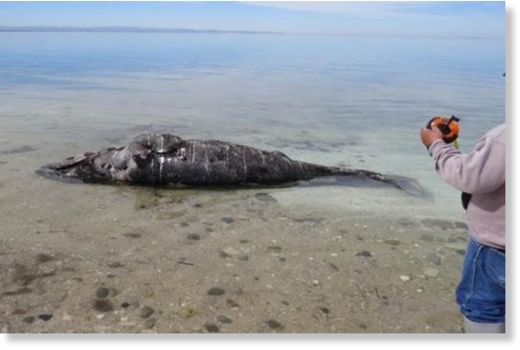 Specialists say the death of the specimens might be due to natural causes.
14 gray whales and 16 sea turtles were found dead in the Baja California Sur coast, according to the Federal Attorney's Office for Environmental Protection (Profepa).
The finding of the specimens was detected during a surveillance round carried out by Profepa inspectors on the Ojo de Liebre lagoon, in the municipality of Mulegé, Baja California Sur.
According to specialists, the death of cetaceans could be due to natural causes, as this is a breeding area for the mammals, so it is common the whale calves get lost or are abandoned by the mother, so they do not receive adequate nutrition and die.
Cetaceans found were in an advanced state of decomposition, however no rips or injury caused by ships or entanglements were found.
According to Profepa inspectors, another cause of death could be hypothermia, derived from the low temperatures due to cold fronts in recent days.