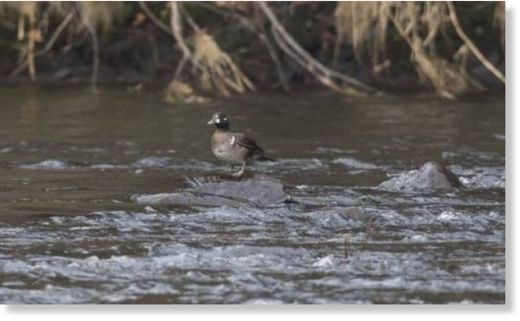 Twitchers travelled hundreds of miles to a city riverbank today to catch an "exceedingly rare" glimpse of a Harlequin duck.
The bird turned up at the Don Estuary at Seaton Park in Aberdeen on Saturday afternoon and has been watched closely by eagle-eyed enthusiasts ever since.
Within hours of its arrival, twitchers were heading to the grassy park to watch the duck feeding in the river.
The bird is normally found in North America and eastern Russia and often winters in the warmer climes of Korea and California but has hardly ever been seen in the UK.
The RSPB bird charity described it as
an "exceedingly rare" sighting
yesterday.
Chairman of the Aberdeen and District RSPB group, Mark Sullivan, said: "It's very exciting. This is the first time a harlequin duck has been seen in North-east and is probably only the 12th record for Scotland.
"It is very unusual to see them and this morning probably more than 100 people arrived to try to see it.
"Early on, it was local birdwatchers but it's now attracting people from further afield.
"Of course it could leave tomorrow, but it might stay and if it stays a long time we might get to see it develop its spectacular breeding plumage.
The last two mainland records for Harlequin sightings were for Ayrshire in 1996 and Wick in 1991. Across the UK, there have probably been 20 or so records since records began.
Harlequins breed on fast-flowing streams in Iceland, Greenland, in North America and East Siberia. The Icelandic population is estimated to be around 3000 pairs and they winter around nearby coasts often in rough water.
Fiona McLean, 53, travelled north from Glasgow to see the duck today.
She said: "I left Glasgow at 6am to get up to see the bird.
"It is a fabulous bird. It is a first-winter drake Harlequin Duck and it's quite small, a lot smaller than a mallard.
"It has been feeding on the river and about ten minutes ago it got out and stood on the rock and preened its feathers for us.
"It is a very unusual sighting for the whole of the UK - it is a rarity to get them over here."
About 100 bird enthusiasts have travelled from all over the country to see the duck since it was first spotted on Saturday.
Some drove up from Edinburgh and one man visiting the city on a business trip popped down to the riverbank to see the bird before he travelled home to England.