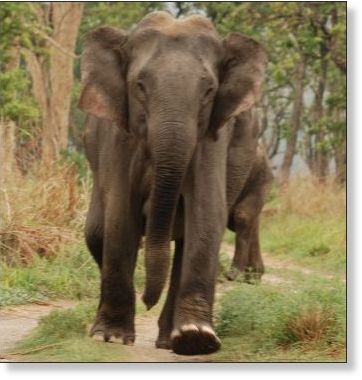 A night guard of a Dooars tea garden was killed by a wild tusker while he was patrolling the estate last night.
According to a forest department source, Parbat Dorjee, 50, was working in Hope Tea Estate in Nagrakata.
"While Dorjee was walking in the plantation, a tusker came out of the adjoining forests of Sipchu and trampled him to death.
The jumbo then went back to the forest. This morning, local people found the body and informed us," said a forest officer.
In another incident, a tusker came out of the Diana forest last night and damaged two huts in Kalikhola village.

The wild elephant later entered Luksan, a locality nearby, and damaged another house.

The animal's next destination was Grassmore Tea Estate where it damaged 12 huts.
"We fled with our families as the tusker was roaming around damaging one hut after another. Some of us burst crackers and beat empty containers, which made the animal move towards the forest," a worker of Grassmore garden said.
Tapas Das, the conservator of forests (wildlife, north Bengal), said the department would give compensation to the deceased night guard's family as well as those whose huts had been damaged.
In another development, officers of Kathambari forest beat in the Dooars today trapped an adult female leopard in a small tea plantation at Kranti near Lataguri.
"The animal had been roaming around in the plantation for some days. We were informed by local people and accordingly, a trap was set up. The leopard has been taken to Gorumara National Park and will be released into the wild after a medical examination," said Das.