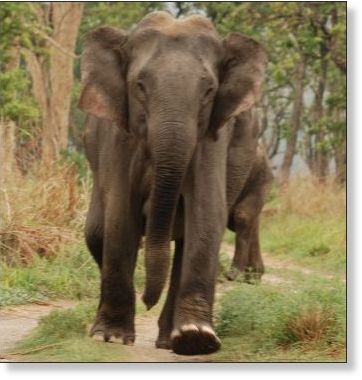 Following the killing of a man by a wild elephant, irate villagers of Rasasingha under Sadar police station blocked the national highway No. 55 paralysing traffic for more than two hours today.
A female elephant, according to forest department sources, killed Birabar Parida(50) after she turned furious over the death of her three-year-old baby last night near the village. The baby elephant was killed by another tusker.
The shocked mother elephant stayed with the body of the baby elephant and refused to go away even in the morning. When the villagers tried to chase her away, she strayed into the village and found Birabar in her way and killed him instantly.
Enraged over the incident, more than 200 people, who staged the blockade between Cuttack-Sambalpur, demanded adequate protection against the attack from a herd of elephants.
"We are at the receiving end as a herd of wild elephants has created havoc in our village for some time. They killed a villager last week and now took one more life.
There is no safeguard to our village people on behalf of forest department who are callous to our woes. We live in constant fear and threat from wild animals. We demand full proof security against the menace," said a villager.
The blockade continued from 11 am to 1 pm till the senior forest department authorities reached the spot and assured to take all steps to safeguard the village from recurrent attacks from the elephants roaming in that area for some time, according to Inspector-in-Charge of Sadar police station P. K. Jena.
Divisional forest officer of Dhenkanal P.K. Sahu who rushed to the spot where the baby elephant died said all steps are being taken to provide security to the people and drive away the elephants from the area.
The calf apparently died in the attack by a tusker in the herd last night after which the mother elephant became hostile, Sahu added.