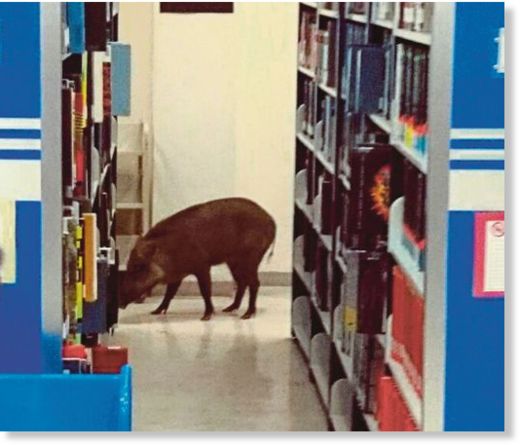 The peaceful, silent library of the Malaysia Multimedia University (MMU) today was "disturbed" by a wild boar which became trapped in the building
after crashing through a glass panel of the rear door.
The male animal entered the building about 1.30pm and was trapped in the library for almost two hours.
Firemen from the Cyberjaya station arrived 10 minutes after the boar entered the library and told those in the building to leave.
In a statement, MMU chief librarian Kamal Sujak said staff and students in the library at the time were startled to see the animal.
However, he said the firemen, Wildlife and National Parks rangers and the university's safety department managed to get the boar out after almost two hours.
"The animal had likely strayed from the nearby jungle due to the rapid development around Cyberjaya," he said.
Kamal said part of the main library had to be closed to catch the animal but the main reading hall was operating as usual.
He added that the situation was back to normal and that the cleaning up process was underway.
The incident went viral on the Internet as pictures of the animal were shared among Netizens.