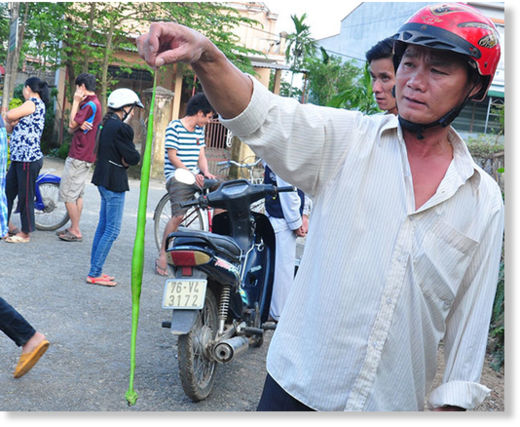 The green pit viper, a species of venomous snake, has appeared in urban residential areas in Vietnam's central region at an alarming rate, slithering into kitchens, bedrooms, gardens, and schools.
Dozens of people in Da Nang City, as well as Quang Nam and Quang Ngai Provinces, have been hospitalized recently after being bitten by the poisonous reptile 'rắn lục' (green snake), with the scientific name of
Trimeresurus albolabris
.
The snake perfectly disguises itself around trees thanks to its green body. It is yellow or pale green below the eyes, while its belly is green, yellowish or white, and the end of the tail is brown or red.
The situation has reached such a dangerous level that the Department of Forest Management of Quang Ngai has asked local authorities to urgently begin a campaign to drive the animals out of local neighborhoods.
An odd increase in the number of venomous snakes
Within the last three days, locals in Chau O Town in Binh Son District of Quang Ngai have killed around 30 snakes.
The green snakes have appeared not only in gardens, but also in kitchens, bedrooms, kindergartens, hanging under roofs, and over school gates.
Nguyen Thi Nga, a resident in Binh Minh Commune of Binh Son District, said she discovered five green snakes in her house after one night.

"After getting up early one morning, I saw a green snake curled up on my dining table. I called my husband and he found four more in the corners of other rooms."
Phuoc Hoa Hamlet of Binh Tri Commune in Binh Son had four locals hospitalized within four days for snake bites, she added.
Nguyen Van Thao, a guard at the 23-4 kindergarten, was admitted to a local hospital after being bitten by a green snake last week.
Vo Van Dan, whose father was bitten by a green snake, said his fellow villagers killed seven such reptiles several days ago.
Pham Hung, vice chairman of the People's Committee of Chau O, said, "
Green snakes appear even on the road. We already reported the odd growth in the number of green snakes to district level authorities."
The fourth zone in Phuoc My Ward in Da Nang's Son Tra District is a busy residential center, but it has become a 'rendezvous' for the snakes.
Local dwellers have to install tightly knit nets and roller blinds to surround their houses to prevent the snakes from getting in.
They have also applied folklore experience by grinding garlic, onions, and citronella grass to drop at gates and doors because they believe that the reptile fears the odors of the plants.
The Quang Ngai General Hospital has treated over 40 patients bitten by green snakes from the start of this month.
Vietnamese people, especially those in rural areas, are inclined to apply traditional herbal remedies for snake bites, and they have proved effective in many cases.
The green snake with a red tail is venomous and its poison can cause fatigue, breathing difficulty, dizziness, nausea, inflammation, and blood circulation problems. It requires long-term treatment to remove the poison from the body of a patient, said a doctor.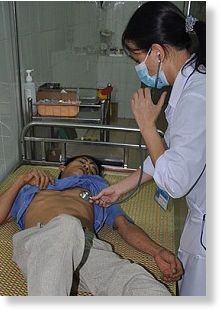 A bite from a green snake may kill a person, according to Doctor Doan Van Sen, vice director of Thang Binh Hospital in Quang Nam Province.
Killing the snakes is urgent work
Nguyen Van Han, head of the Quang Ngai forest management department, explained that the green snake population has grown and 'invaded' local neighborhoods because of low rainfall and no floods, creating favorable natural conditions for the reptile's eggs to hatch and multiply.
The odd increase in the population of the green snake and its invasion into residential areas all over the central region have never taken place before, even though they are native to this region,
according to Duong Van To, director of the Department of Agriculture and Rural Development of Quang Ngai.
"Eliminating green snakes from residential areas is now an urgent task here," said Pham Thanh Tung, chairman of the People's Committee of Mo Duc District in Quang Ngai.
"Initially, we will weed grass and bushes along streets," he added.