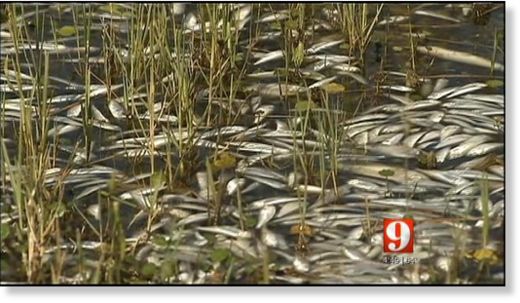 Florida wildlife officials say thousands of fish in a popular Marion County lake are dead, and more could die in the next few days.
Residents say the dead fish in Lake Bryant near Levy Hammock Road are creating a terrible smell.
"About three days ago fish started washing up on shore," said Angela Rivers. "It was pretty sad though, all of the fish were at the top of the water, and you could see they were trying to get air."
Florida Fish and Wildlife Conservation Commission officials estimate more than 400,000 fish have died so far. Unusually large numbers of birds are showing up at the lake, eager to feed on the dead fish.
"The whole entire lake, including the canal, just looked like it was raining, but it was fish coming to the top," said Rivera.
Tuesday afternoon, Channel 9's Myrt Price was at Lake Bryant as fisherman, unaware of the problem, showed up to fish.
"There is no sense in going fishing, the fish are dying already. (I) can't take them home to eat or anything like that," said fisherman Larry Godfrey.
Some residents told Price that they were concerned that there might be an issue with the water, but they said wildlife officials showed up and put those fears to rest.
"They told us it was low oxygen levels, and that it is uncommon for this time of year, but it does happen," said Rivera.
Wildlife biologists took samples of the water and are conducting tests.
People who spoke to Price are convinced the fish population in the lake will bounce back.
"Nature will straighten this back out," said Rivera.
While there are still fish alive in the lake, wildlife officials said they expect more fish to die over the next few day.