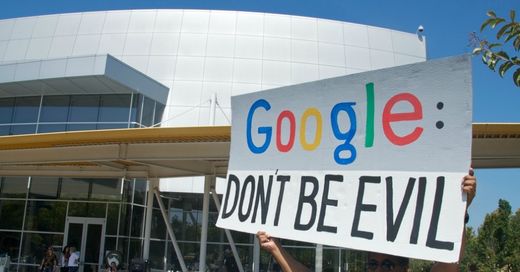 Google is amassing huge amounts of personal user data while simultaneously accruing big-time political clout, a new
report
from Public Citizen confirms.
"
Mission Creep-y: Google Is Quietly Becoming One of the Nation's Most Powerful Political Forces While Expanding Its Information-Collection Empire
" (pdf) looks at the ways
Google is accumulating political power - through high-powered lobbying and sizable campaign donations - as well as massive amounts of personal information that make the company a "treasure trove for agencies like the NSA
."
"Google is becoming exponentially more powerful in federal and state governments," said Sam Jewler, author of the report and communications officer for Public Citizen's U.S. Chamber Watch. "At the same time, it's pushing boundaries in technology, and it has shown that it can't always be trusted to do the right thing with people's information. When we see such massive influence, it raises the question, will regulators and lawmakers be reluctant to rein in Google?"
While the company admittedly provides popular and useful services, Jewler continued, its business model and "history of questionable practices indicate that, if left to its own devices, it may not always do what's best for the public."
The report states that Google "is becoming the most prolific political spender among corporations in the United States,
while providing less transparency about its activities
than many other of its politically active peers."
Over the first three quarters of 2014, Google ranked first among all corporations in lobbying spending, according to OpenSecrets.org, and is on pace to
spend $18.2 million on federal lobbying this year
. In fact, it has spent $1 million more on lobbying than PhRMA, the trade association of the pharmaceutical industry. Since 2012, no company has spent more money on federal lobbying than Google.
In addition, the company's political action committee (PAC) spent $1.61 million this year, according to Federal Election Commission records, surpassing PAC expenditures by Wall Street bank Goldman Sachs.
Meanwhile, the company's "qualms about peering into people's lives seem to have steadily diminished," the report says. In September, WikiLeaks founder Julian Assange
said
Google's practices are "almost identical" to those of the National Security Agency and its British counterpart, the GCHQ
. The company's business model "is to spy," Assange said.
For example,
Google has recently acquired new technologies such as Skybox, which owns satellites that capture high-definition images and video around the planet multiple times per day; Nest and Dropcam, home devices that monitor things like temperature, energy usage, proximity of the owner to the house, and take video in the home; and Emu, which could be used to monitor and advertise in online chats and text messages.
The combination of expanding technology and exploding political influence could be dangerous, Public Citizen warns.
"Google has essentially responded to concerns about its practices by saying 'just trust us'," said Taylor Lincoln, research director of Public Citizen's Congress Watch division and editor of the report. "But Google is gaining so much power that regulators may find it difficult to act if it turns out that the public's trust has been misplaced."
A new survey by the Pew Research Center suggests that public trust is already pretty weak.
On Wednesday, Pew's "
Public Perceptions of Privacy and Security in the Post-Snowden Era
" (pdf)
showed
that the majority of Americans lack confidence that they have control over their personal information. A full 91 percent of adults surveyed said they "agree" or "strongly agree" that consumers have lost control over how personal information is collected and used by companies.