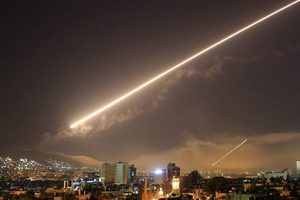 Syrian air defense systems protecting Damascus - the oldest continuously-inhabited city on Earth - from Western airstrikes, 14 April 2018
In the Truth there is no news, and in the News there is no truth
- Popular Russian saying under Soviet Communism
Recent Comments
I was mesmerized by this article. And incredibly, deeply saddened for the individuals who experience PTSD.
---
So totally cool. I love trees. If you've got a tree...you've got a friend.
---
The Dinner Menu for this great meeting of sewer rats should read...Coq Au Vin served with Novichok sauce. Chlorine gas air freshener canisters...
---
Since monsieur Macron considers himself the equal of V. Putin, it would be fitting to have monsieur kill, cook and eat the meal to prove his...
---
Shallow article, really. It serves only to hide the truth behind the occupation of Syria (Iraq, Libya, Afghanistan, etc.) by the U.S., G.Britain,...