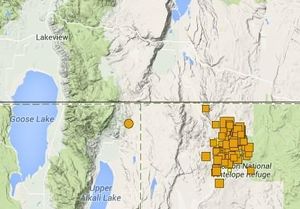 An earthquake swarm that started rocking a secluded region in northwest Nevada this summer intensified over the past week, geology officials said on Wednesday.
The swarm, centered just off the state's northwest border some 40 miles (65 km) southeast of Lakeview, Oregon, started July 12 and is being caused by stretching of the Earth's crust, said Graham Kent, the director of the Nevada Seismological Laboratory at the University of Nevada, Reno.
The laboratory said in a statement that two magnitude 4.7 quakes, and over 50 magnitude 3 or stronger temblors have occurred over the past week, representing more seismic activity than in recent months combined.
"I've talked to people whose houses are very near this epicenter, and they are already getting shaken up," Kent said, though he added that the area is sparsely populated.
Kent said it would likely take significantly stronger quakes to damage nearby structures or surrounding communities.
The Laboratory said there have been 101 tremors of a magnitude 3 or larger, and eight that clocked in at a magnitude 4 or stronger since the swarm first appeared.
Following swarms like these there is a slight increase in the likelihood that a larger earthquake will happen, the Laboratory said, though it is impossible to predict whether such a quake would occur.
The current swarm resembles one that happened in Reno, Nevada, in 2008 that shook the area over a two-month stretch with increasingly strong temblors leading to a magnitude 5 quake that caused moderate damage in the area,
the Laboratory said.