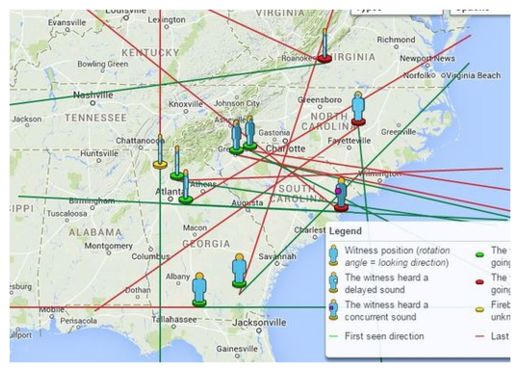 At least five reports of a meteor going overhead were received from Georgia Tuesday evening - and up to 10 reports came from neighboring states according to the American Meteor Society. The reports came from Georgia, South Carolina, North Carolina and Virginia between 6:45 and 7 p.m. Tuesday. According to the reports, the fireball appeared blue to white to orange in color as it passed overhead.
The meteor did not make a sound as it passed according to all of the reports received. The Georgia reports came from Blackshear, Ranger, Cumming, Morven and along Interstate 20 east of Atlanta. Other reports came from Greenville and Pawleys Island in South Carolina, from Garner, NC and Moneta, VA.
Two reported meteors were seen over Georgia's skies last week -- one on Monday and another on Thursday. Scientists say that meteors pass through the atmosphere with regularity. Two major observatories in north Georgia -- one at North Georgia College and State University in Dahlonega and a second one at the Tellus Science Museum in Cartersville -- are part of a network of six cameras across the Southeast and 15 such observatories across the nation that watch the skies for fireballs.