China is sending Obama and the empire of chaos a powerful message at the APEC gathering in Beijing. First of all, it is clear that Putin is the guest of honor and not Obama. This was strongly demonstrated in the usual group photo of the leaders, where Putin was to the right of the Chinese president Xi. In contrast Obama was hardly visible and relegated on the outer wing, with female leaders. This photo says it all with the added circles
by a blogger: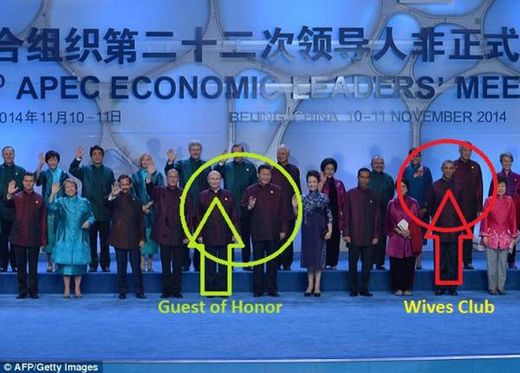 The message is clear. China and Russia stand shoulder to shoulder as big strategic partners and are intent on asserting their vision of a multipolar world which is not dominated by the petrodollar.
APEC did agree on a free trade deal, but it was the Chinese version, not Obama's,
that won the day
:
CHINA has gained support for its version of a regional free-trade arrangement as leaders to the Asia Pacific Economic Cooperation (Apec) agreed to create a new free-trade area "as early as possible."

The US-sponsored Trans Pacific Partnership, however, failed to set a timeframe.

In a drafted joint statement, leaders of 21 economies reaffirmed commitment to the Chinese-backed Free Trade Area of the Asia-Pacific for further regional economic integration.
In another indication of the growing strength of Russian-Chinese cooperation, Putin signed a memorandum of understanding for another mammoth gas deal - 30 billion cubic meters per year - which when completed in 2018 will
make China the biggest importer of Russian gas
, and thereby overtake Germany. A new 'Altay' pipeline will be opened, taking gas from Yamal in Russia's far north to northwestern China, directly into the heart of the Eurasian 'world island'.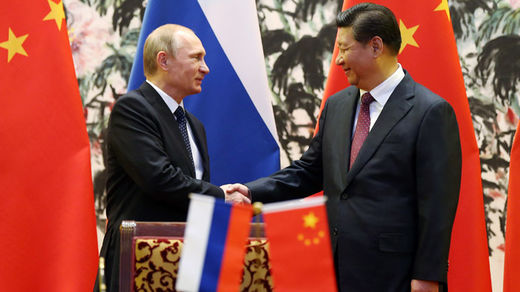 Russia is clearly looking east for business and win-win partnerships and is in no way isolated, as the US and Europe would like to see. On the contrary, the US and especially the EU are getting increasingly isolated - and all by their own doing.
The 'twist of the knife' for the US, however, is the fact that all this trade
will not be settled in dollars
.