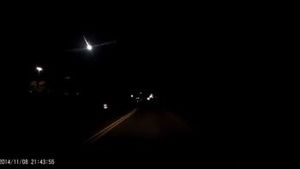 KXAN viewers from all over Central Texas reported seeing a meteor Saturday night that many described as "lighting up the sky." Reports indicate the meteor, likely a small rock or piece of space debris, entered the atmosphere about 8:45 p.m.
While KXAN cannot confirm the authenticity of the
video below
, viewers who have seen the clip say it appears to be the same meteor they saw Saturday night. The YouTube user who posted the video says it was captured using a dashcam while driving in San Antonio.
Some witnesses describe seeing two objects, and a greenish-blue tail - likely from the meteor breaking apart. Some say it appeared as bright as fireworks, briefly turning night into day.
The sightings weren't limited to Central Texas. Reports of the meteor came from across the state. The
Maverick Co.
Sheriff's Department reported the ground shaking due to a meteor landing at about 8:45 p.m., according to the National Weather Service, however, no confirmed meteorite debris has been found, and the shaking may have been the effect of a sonic boom.