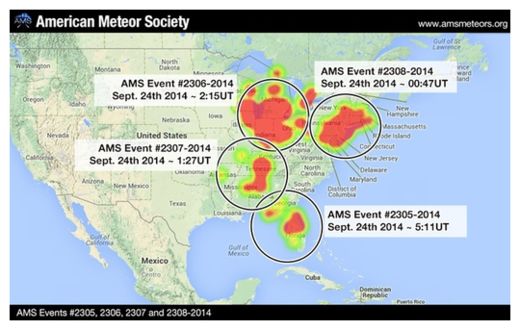 The American Meteor Society (AMS) says four large, unique fireball events were reported Tuesday night.
AMS stated three of the events all occurred within an hour and a half of each other--- a rare happening. The AMS concluded each event was unique, due to the analysis of time, proximity of witnesses and pointing data gathered. It's likely several were captured by NASA, said AMS.
Locations of the events were reported all the way from Florida to Michigan.
Anyone who witnessed the fireball can
report the event
to the AMS on their website.
A heat map of the events can be viewed in the provided AMS picture.
According to the AMS, a fireball is another term for a very bright meteor, generally brighter than magnitude -4, which is about the same magnitude of the planet Venus in the morning or evening sky.
Several thousand meteors of fireball magnitude occur in the Earth's atmosphere each day. The vast majority of these, however, occur over the oceans and uninhabited regions, and a good many are masked by daylight. Those that occur at night also stand little chance of being detected due to the relatively low numbers of persons out to notice them.
The AMS estimates of the total incoming meteoroid flux indicate that about 10 to 50 meteorite dropping events occur over Earth each day. It should be remembered, however, that 2/3 of these events will occur over ocean, while another 1/4 or so will occur over very uninhabited land areas, leaving only about 2 to 12 events each day with the potential for discovery by people. Half of these again occur on the night side of the earth, with even less chance of being noticed. Due to the combination of all of these factors, only a handful of witnessed meteorite falls occur Each year.
More information on fireballs can be found on the
AMS website
.