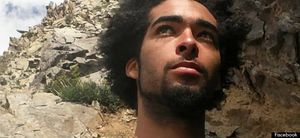 An African-American man, shot to death by Utah police who claimed he attacked them with a samurai sword, was shot in the back, according to an independent autopsy requested by the man's family.
22-year-old Darrien Hunt, was
shot and killed by police
while walking around with the souvenir martial arts weapon outside a convenience store in Saratoga Springs, Utah, last Wednesday.
According to the
Associated Press
, the autopsy concluded that Hunt was shot "numerous times, all from the rear."
"This is consistent with statements made by witnesses on the scene, who report that
Darrien was shot to death while running away
from police," family attorney Randall Edwards said in a statement. "It would appear difficult, if not impossible, to reconcile these facts with a story that Darrien was lunging toward the officers when he was shot."
According to a statement issued by Utah County Chief Deputy Attorney Tim Taylor, "When the officers made contact with Mr. Hunt, he brandished the sword and lunged toward the officers with the sword, at which time Mr. Hunt was shot. There is currently no indication that race played any role in the confrontation between Mr. Hunt and the police officers."
Bystanders have disputed the police account, with one, Jocelyn Hansen, saying Hunt appeared to be having a normal conversation with the officers.
"They had stopped him, and they were all having a conversation," said Hansen, who was parked nearby at the gas station. "It didn't look escalated or heated at all."
Hansen said she had turned away before hearing gunfire.
"When I looked up, I saw the young man turning away from the police, and I saw what I thought were two 2×4's in his hands, one in each hand," Hansen said. "Then I saw police officers running after him, and they could have both had guns, but I saw one for sure with his gun extended."
According to Hunt's aunt, the sword was a 3-foot long toy sword with a rounded-edge bought at an Asian gift store.
"No white boy with a little sword would they shoot while he's running away," Hunt said.
Another aunt of Hunt, Cindy Moss, who is white, agreed that race played a part in the shooting.
"It's difficult to make any sense out of the situation any other way (than race)," Moss said in an interview with
The Salt Lake Tribune
.
"The police make it sound like it was a big sword he was wielding. I'm offended that they even say he was armed with a weapon."
Police have issued a statement that the shooting was not racially motivated, calling it, "completely unfounded and speculative."
According to authorities, the shooting is still under investigation.