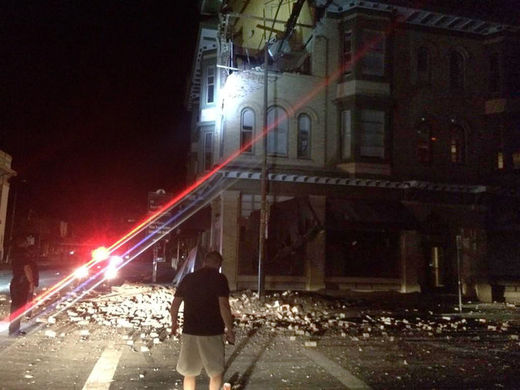 An earthquake with a
preliminary magnitude
of 6.0 was reported early Sunday in California's northern San Francisco Bay Area.
Leslie Gordon of the United States Geological Survey said the tremor struck about 3:30 a.m. Sunday, about 10 miles northwest of American Canyon, which is about six miles southwest of Napa.
The agency said it was the largest tremor to shake the Bay Area since the magnitude-6.9 Loma Prieta quake in 1989.
The agency said there was a "low likelihood for casualties," but issued an "orange alert" for possible damage, a rating that means "significant damage is likely and the disaster is potentially widespread."
A 2.6-magnitude aftershock hit about 30 minutes afterward, the agency said. Early reports suggested some damage closest to the quake's epicenter, but no reports of anything major.
More than 28,000 households were reported without power in Napa, about six miles from the epicenter, as well as in other towns and cities in the region, according to the Pacific Gas and Electric Company.
The utility said crews had been sent out to assess the damage and restore power, and it estimated that electricity would be restored within several hours.
The California Highway Patrol in the San Francisco Bay Area posted on Twitter that it was "checking over crossings and bridges for obvious signs of structural integrity," and asked residents to report any signs of problems.
Officials closed a bridge near Vallejo on Highway 37 while inspecting it for possible damage, KCBS radio reported.
Source: Associated Press