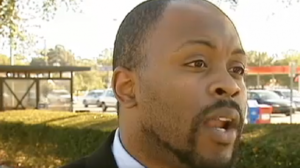 Republican candidate for Florida's state house defended his call for the hanging of President Barack Obama.
According to Tampa's Fox Channel 13
, Joshua Black persisted in his insistence that Obama is a war criminal and a traitor who should be executed by "whatever method is applicable for the situation."
Black tweeted on Monday that "It's time to arrest" Obama and "hang him high."
Since then, Black has been denounced by other Florida Republicans and questioned by the Secret Service. Nonetheless, the only thing he regrets about the tweet is the means of killing the president.
"I know that we don't use hanging as a method of execution here in the U.S. anymore, so be it," Black told Channel 13 in a Walmart parking lot interview.
"Whatever method is applicable for the situation, I just want justice to be served."
Black believes that Obama is culpable in the drone killings of purported al Qaeda leader Anwar al-Awlaki, a U.S. citizen based in Yemen. A drone strike also killed al-Awalki's son, a raid the Defense Department later admitted was a mistake.
"When George Zimmerman killed Trayvon Martin, he got a trial. And whatever was going to happen came out of that trial. President Obama kills a 15year-old, somebody else's teenage son, and gets no trial,"
said Black
.
Chris Latvala, who is running to represent the neighboring 67th district called Black an "embarrassment" and dubbed him the "loser of the week."
Black's Democratic opponent in District 68 said, "It's pretty evident he is not someone who is serious or responsible or appropriate to run for public office."
Black's only response to the criticism was to tell Channel 13, "I don't care."
When asked if he feels his remarks could be constituted as incitement to harm the president, Black said, "Not with all the guns he has around him, no. That's the whole reason for having Secret Service, that's the whole reason for having firearms, is personal protection."
Watch video about this story, embedded below via Fox 13: