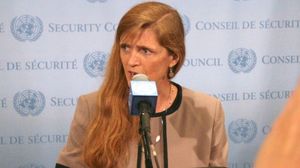 US Ambassador to the United Nations Samantha Power has criticized Russia for holding the United Nations Security Council "hostage" over Syria.
"Russia continues to hold the council hostage and shirk its international responsibilities, including as a party to the Chemical Weapons Convention," Power told reporters at the UN in New York on Thursday.
She added that the council "is not protecting the stability of the region; it is not standing behind, now, an internationally accepted ban on the use of chemical weapons."
The US official claimed that "the system has protected the prerogatives of Russia, the patron of a regime that would brazenly stage the world's largest chemical weapons attack in a quarter-century, while chemical weapons inspectors sent by the United Nations were just across town."
Power made the remarks as Washington has blamed Syrian President Bashar al-Assad for the August chemical weapons attacks. An allegation denied by the Syrian government.
"We in the United States agree with the view that, at times like this, the Security Council should live up to its obligations and should act," Power said.




Comment: She means to say that 1% of the people of the USA are in favour of military action, which amounts to 3 million people. The world community consists of 7 billion people.

Should the 1% of people dictate world policy?


The United States and Russia locked horns over the crisis in Syria. Russia has vetoed three Western-proposed resolutions against Syria.
On Thursday, US President Barack Obama and Russian President Vladimir Putin exchanged a tense handshake during the opening of the G20 summit in St. Petersburg.
The Obama administration is planning to attack Syria under the pretext of the chemical weapons attacks. Putin, however, strongly rejected the military action.
Putin warned the Western countries against taking one-sided action in Syria, saying Moscow has provided some components of the S-300 air defense missile system to Syria but has frozen further shipments.
The Russian president suggested that his country may sell the missile systems elsewhere if Western nations attack Syria without UN Security Council backing.