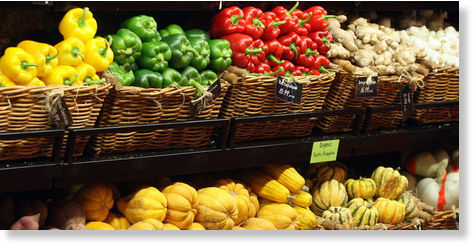 Fruit and vegetable prices have spearheaded a 2.1 per cent rise in food prices for June 2013, a 50 per cent increase on June 2012 and 2011,
according
to Statistics New Zealand's latest Food Price Index.
This is the biggest monthly gain since GST was lifted to 15 percent in October 2010.
Fruit and vegetable prices rose 13 per cent, compared with 9 per cent in June last year.
Some of the big risers include tomatoes - up 99 per cent, nectarines up 64 per cent, lettuce up 55 per cent and avocadoes up 33 per cent.
Meat, poultry and fish prices increased by 1.3 per cent against the previous month, influenced by chicken rising 12 per cent - largely due to less discounting, said Stats NZ.
However, lamb, mutton and hogget fell 17.7 per cent compared with June last year, partly due to more discounting.
Dairy prices are more optimistic for consumers, falling 0.6 per cent from last month and down 2.3 per cent on this time last year.
Cheese, down 8.6 per cent and chocolate 6.5 per cent were the biggest changes.
The price of non-alcoholic beverages rose 2.1 per cent, with coffee the big riser at 5.9 per cent.
"The result adds to other inflation indicators pointing to a subdued inflation environment at the moment," said Christina Leung, economist at ASB, which is forecasting inflation of just 0.1 percent in the second quarter.
"The low inflation environment is one of the key factors why an OCR increase is not appropriate at the moment, and we continue to expect the RBNZ will wait until March 2014 before lifting the OCR."