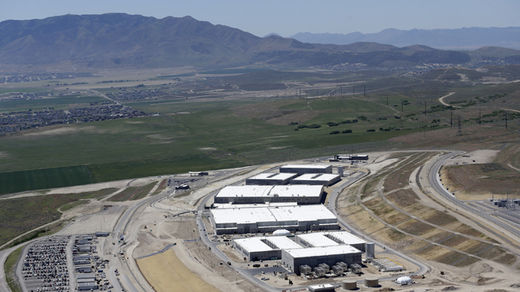 As Americans demand answers about the government's wholesale electronic snooping on its citizens, the primary snooper -- the National Security Agency (NSA) -- is building a monstrous digital datacenter in Utah capable of sorting through and storing every e-mail, voicemail, and social media communication it can get its hands on.
This top-secret data warehouse could hold as many as
1.25 million 4-terabyte hard drives, built into some 5,000 servers
to store the trillions upon trillions of ones and zeroes that make up your digital fingerprint.
But that's just one way to catalog people, said Charles King, principal analyst at
data center consulting firm Pund-IT
.
"The NSA -- like any large organization -- is using numerous kinds of storage systems," King told FoxNews.com, including "innovative SSD and in-memory systems for high performance applications like real time analytics."
Some reports have suggested the data center could hold as much as
5 zetabytes, an astronomical sum equivalent to 62 billion stacked iPhone 5s.
King called that number "difficult, if not impossible to conceive."
"That would mean deploying about
5 million storage systems running roughly 1.25 billion, 4-terabyte hard drives
," he said.

Comment: Geez, we wonder what those astronomically large zetabytes at the disposal of the agency that is spying on everyone's emails, phone calls and online activity on the planet will be used for! Oh wait - we get it.


The agency will neither confirm nor deny specific details about the 100,000 square foot center, which comprises four separate data halls. But industry experts reached by FoxNews.com painted a detailed picture of how such a facility would work.
The NSA likely uses open-source UNIX operating systems rather than the Microsoft software common in business. And the storage and servers are probably custom-made, due to the scale of the operation, explained Jim Knotts, a solutions architect at
networking company Black Box
.
"I wouldn't think for a second that [the NSA] uses commercially available servers and storage for the simple fact that if someone were to physically breach the facility, they would be able to have determined beforehand how to get past any security measures," Knotts told FoxNews.com.
There's a precedent for secretive organizations making their own hardware. In March, Wired reported that Google makes its own data center equipment as a way to keep operations secret and tamper-proof.
"The company is apparently so paranoid about competitors catching a glimpse of its gear, it's been known to keep its server cages in complete darkness, outfitting its technical staff like miners and sending them spelunking into the cages with lights on their heads,"
Wired's Cade Metz wrote
.
Located just outside of Bluffdale, the NSA center is powered by 65 megawatts of electricity and has a series of back-up battery sites, according to
U.S. Army Corp of Engineers documentation
.
King says the Utah data center is likely designed to analyze what he calls "unstructured data" -- the bits and fragments collected from chats and social nets that run through high-speed servers for analysis.
"The place is probably equipped with pretty much every kind of traditional enterprise-class database/data mining platform and tool," he told FoxNews.com.
At the same time, Knotts says the firewall and security gear is likely commercially available -- from companies like Cisco, Checkpoint, and Dell SonicWALL. (Each of these companies declined to comment or did not respond to a Fox News inquiry.)
Even if some of the security software is U.S. made, he says the NSA likely has customized many of the IT security measures and uses its own custom-made back-up software.
And what about Microsoft? The operating systems are likely UNIX, but there's a good chance NSA agents use Microsoft productivity software. (Microsoft declined to comment on its involvement in the Utah data center.)
According to the NSA, the Utah facility will cost $1.2B and is the Department of Defense's largest ongoing construction project in the continental U.S. The exterior of the building was completed on May 30. There will be about 150-200 employees.
In April, Vanee Vines, a public information officer for the NSA, told Fox News that the Utah Data Center will be "a state-of-the-art facility designed to support the Intelligence Community's efforts to further strengthen and protect the nation."
Recent images released by the Associated Press show the facility is almost complete. There's an entrance, concrete-walled buildings, and massive power generators.
Is the NSA planning to use the Utah facility for spying? Experts say no.
"The National Security Agency is not spying on our U.S. citizens -- and the thought is not only illegal, it's ludicrous," said James C. Foster, CEO and Founder of Riskive.
Vines told FoxNews.com a similar story, reiterating a statement about how the facility will be used:
"One of the biggest misconceptions about NSA is that we are unlawfully listening in on, or reading e-mails of, U.S. citizens. This is simply not the case."
"NSA is unwavering in its respect for U.S. laws and Americans' civil liberties."

Comment: Not only do they spy on us, they also insult our intelligence. Here is something to ponder: If they think the public is so stupid as to believe those lies, why are they so paranoid about what we might be chatting about on Facebook and Gmail?