About DavidHamilton
Having served some of the largest retailers in Australia, David Hamilton is familiar on handling a large team working on large projects with tight deadlines. As David moves into his new Geelong facility with the Supercheap Storage chain, he is about to take on a new kind of challenge as a manager and he anticipates greatly to build this business of his own and to rope in his family while at it to work cooperatively together. With the new and unique self storage services that it provides, he is enthusiastic to start training and building a strong team to help him develop the brand in the area.
Supercheap Storage is an easy brand to comprehend since it was especially developed to suit any and all kinds of self storage needs from consumers in general. The Supercheap service is designed to cater to any budgets that our customers might have with various options that we offer our customers which they can tweak according to their self storage needs as needed, and pay only for what they use. Whether they opt to load up their items to the self storage facility on their own, or prefer to use our transportation and moving services with additional manpower, your self storage plan can be customized whichever way you prefer so that you really only get and pay for what you need, with our help!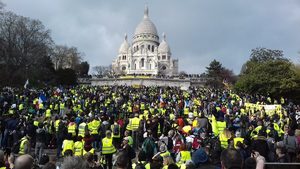 Acte XIX: Sacré-Coeur, Paris, 23 March 2019
There is one thing stronger than all the armies of the world, and that is an idea whose time has come.
- Victor Hugo
Recent Comments
I hope there are arrests, trials and executions forthcoming.... Clintons, Comey, Odumba, Lynch, Holder, Ratface Podesta, Strzok, Paige, McCabe and...
---
"Those claims are not meant to inform or engage in legitimate debate." Is that a joke? A legitimate debate on American support for Israel? A...
---
Anyone who has bought into the whole gender identity scam is a fruit loop if they disapprove of Michael Jackson. I disapprove of it all....
---
[/"They are saying, you can't even be a good American and be a supporter of Israel. This isn't a 'normal' debate. ] Actually it is they saying you...
---
The screamer will hit a brick wall shortly I hope *and believe(. [Link] Kent