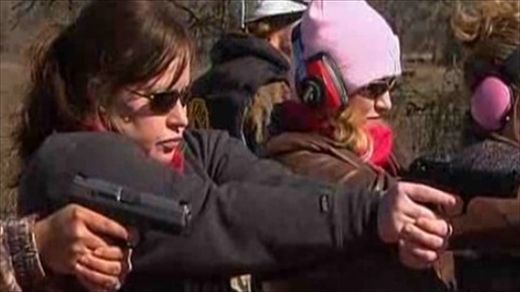 The push to provide firearms training to teachers has taken hold in Texas, where, as NBC News reported on Tuesday, hundreds of instructors are hitting the firing ranges.
"We've had over 300 [teachers], and today adds up to 400 now," said Johnny Flynn, head instructor at Big Iron Concealed Handgun Training, in Katy, Texas. "It kinda grew faster and quicker than I ever dreamed it would grow."
KXAS-TV
reported
on Monday that the state's lieutenant governor, David Dewhurst (R) will ask the state senate to consider using public funding to pay for schools to send employees to similar courses.
State law allows teachers with concealed handgun permits to bring them to campus if granted permission by their district superintendents. Josh Felker, who teaches a course of his own in San Antonio,
told Reuters
some educators are prepared to defy that law, too.
"They are upset at what happened, and no one is going to hurt their kids," said Felker, who, like Flynn, waived the $85 training fee for teachers in his course. "One teacher said flat out, 'I don't care if the law changes or not, I'm going to take it to school.' Most of them just want to protect their kids."
When Flynn asked one recent group of trainees how many of them were teachers or school personnel, more than half the people in the room raised their hands.
"Y'all are the first line of defense for stuff like Columbine, and what happened in Connecticut," he said.