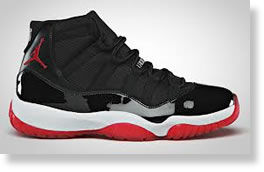 Huntsville, Alabama - Tempers flared during an early morning shoe sale at the Madison Square Mall, forcing security officers to call in the Huntsville Police.
At least eight patrol cars responded to the Hibbett Sports store to help control a disturbance that erupted among a crowd of 75 people.
The shoppers had been waiting for hours for the release of the new Air Jordan 11 Bred shoes. They sell for $180. On
eBay, several pairs are going for $300 to $400
and up.
Police had to use pepper spray on the crowd to calm them down, then helped those who were sprayed to clean it off their skin and out of their eyes.
Officer say there was no fight, but the customers refused to comply with store rules and policies and security officers felt they needed assistance from police officers to get things under control.