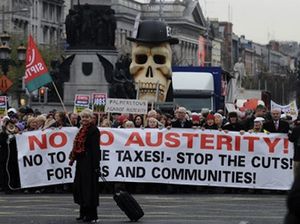 The Dublin government's fiscal 'kite flying' season is well and truly underway ahead of next month's annual 26-County Budget announcement.
Measures already signalled and likely to be included in the spending plans for 2013 are an annual property tax of around 300-500 euro per home, and a universal cut in child benefit.
Other elements being leaked by government officials include a hike in motor tax, a 'fat tax' or 'sugar tax', and an increase in the duty on the 'old reliables' - alcohol and cigarettes.
Unions on the wrong side?
Over 15,000 marched on Saturday in a demonstration against the government's unrelenting austerity measures, which once again look set to hit the most vulnerable the hardest.
Michael O'Reilly, president of the Dublin Council of Trade Unions (DCTU), which co-organised the event, said it was just one step in a long campaign to reverse cutbacks.
"The evidence is clear - you cannot cut your way out of a recession," he told protesters, outside the GPO on O'Connell Street. "On the contrary: with each cut in public spending, and with each euro taken out of the pockets of low and average earners in new or increased taxes, we are digging ourselves further into a hole."
But the march was overshadowed by spontaneous protests against the trade unions' tacit support for the government, and the public perception that it has worked to the advantage of Ireland's wealthiest civil servants. O'Reilly himself was heckled by one man shouting, "how much are you getting paid?".
Like government ministers, the pay packages of Ireland's trade union leaders are indirectly linked to those of the state's top civil servants. And under the 2010 Croke Park Agreement, unions have vowed to take no action against the government while the incomes and job security of public service workers - including those earning up to half a million euro a year in pay and benefits - are guaranteed.
Siptu President Jack O'Connor criticised attempts to heckle O'Reilly and the head of the ICTU, Eugene McGlone, who also spoke at the rally. In an unusual outburst, he described those involved as "fascists" and claimed they were members of Sinn Féin or the United Left Alliance.
Councillor Larry O'Toole, leader of the Sinn Féin group on Dublin City Council, said that the party was not behind any orchestrated heckling or booing, but said that many people are criticial of the leadership of the trade union movement because of its support of the Labour party.
Mr O'Toole said that the Labour party is "implementing the brutal austerity policies affecting working families and citizens across this state. It was inevitable that such criticism would be reflected" at the rally, he said.
Social Tensions
Pressure on the trade union to act on social injustice has increased this month following fresh reports of the extraordinary pay and bonuses being awarded to politicians, state-funded bankers and elite public servants.
The flat and regressive nature of the cut to child benefit is likely to prove one of the most controversial measures this year. Reports today suggested that Ireland's wealthiest will be hit with the same level of cuts as its poorest, at 10 euro per child per month.
It was also rumoured a new but as yet unquantified "payroll tax" to fund increased health spending is being planned, as well as a doubling of prescription charges for medical card holders.
The elderly are being targeted for extra hardship, with changes to the over-70s medical card, as well as reductions planned in other pensioner benefits, including electricity and telephone allowances.
It has also been reported that the time for which unemployment assistance is guaranteed for those newly out of work will be cut from 12 months to nine months.
Council house residents may also face a rent increase of to 2 euro a week, which will generate €50-€100 a year per house.
Due to the severity of the budget, a new format for the presentation of Wednesday's announcements will see Finance Minister Michael Noonan introducing the main taxation measures in a 40-minute speech, to be followed immediately by Minister Howlin, who will reveal the spending cuts.
There has been much opposition to the rumoured measures by Opposition TDs and advocacy groups.
Any cut in child benefit would be a "blatant breach of election pleges from the Labour party", Sinn Fein health spokesman Caoimhín O'Caoláin said in a statement today.
It would be an "outrage" shortly after the passing of the children referendum to attack child benefit and hit the most vulnerable children and families, he said.
The prescription charge for medical card holders was something Minister for Health James Reilly opposed when introduced by former health minister Mary Harney, he said.
"Not only has he failed to abolish the charges as he demanded in opposition, but he now proposes to increase them".
He suggested that the leaks may be part of a 'softening up' process with cuts and charges imposed on budget day portrayed as 'not as bad as they could have been'.
But he added: "These two measures alone - Child Benefit cuts and higher prescription charges - would significantly increase the growing hardship for low to middle income families, and especially families with children in this state. They must be resisted strongly."