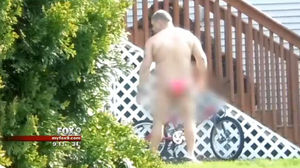 A Minnesota couple was charged with misdemeanor crimes this week after authorities removed a
15-year-old boy who'd been forced to live under constant video surveillance in a dark room, only being allowed to leave to participate in "military style" exercises allegedly forced upon him by his stepfather.
Neighbors reportedly noticed the odd behavior too: one even snapped a photo of Gregory Danner working in his back yard wearing nothing but a pink thong, and said they could often hear him shouting at his stepson.
The teen, who authorities did not name, reportedly has Asperger's syndrome, a type of autism that causes awkwardness and clumsiness.
Minnesota Fox affiliate KMSP-TV added
that his parents covered the windows, removed his light bulb and forced the teen to sleep on the floor.
That alarmed authorities who began investigating the case in April, and parents Angela and Gregory were ordered to change their treatment of the boy. The teen told investigators a month later that they did not, and instead forced him into even more harsh exercises.
"This was a 15-year-old boy," Dakota County Attorney James Backstrom told KMSP. "He wasn't a Marine recruit. Being put through that type of military-style exercise on a daily basis and being required to sleep on the floor in a dark room with the windows shaded off so no light came in... That is a very unusual circumstance, and one which we think crosses the boundary of what's appropriate under the law."
The boy is now living with his natural father, and the Danners face up to two years in jail.
This video is from MyFox Twin Cities, aired Wednesday, November 29, 2012.