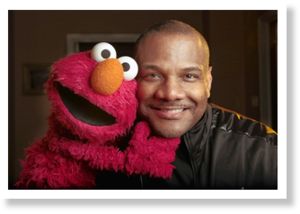 Puppeteer
Kevin Clash
, the voice of Elmo on
Sesame Street"
for the better part of the last three decades, resigned Tuesday amid allegations of a second sexual relationship with a teenage boy. The development was as much a blow for Clash, whose name was unknown to most Americans until the scandal broke, as for
Sesame Street
, the beloved children's program that in recent months has become a political football.
Clash's departure came as a lawsuit was filed Tuesday in a New York federal court accusing the puppeteer of sexual behavior with a 15-year-old boy. The plaintiff, Cecil Singleton, now a 24-year-old college student, is seeking more than $5 million in damages. In the lawsuit, Singleton claims that Clash met the then-teenager on a gay chat line and that the two later met for sex. Clash could not be reached for comment about the lawsuit.
"None of us, especially Kevin, want anything to divert our attention from our focus on serving as a leading educational organization," read a statement Tuesday morning from the Sesame Workshop, the nonprofit organization behind the groundbreaking
PBS
show. "Unfortunately, the controversy surrounding Kevin's personal life has become a distraction that none of us wants, and he has concluded that he can no longer be effective in his job and has resigned from
Sesame Street
."
Sesame Street
has endured numerous high-profile cast changes over the years, most notably in 1990 following the death of
Jim Henson
, the creator of the Muppets. It has also been embroiled in culture-war skirmishes, most recently this fall when Republican nominee
Mitt Romney
declared that although he liked Big Bird, he planned to cut federal subsidies to PBS if he were elected president.
But the sex scandal represents an unprecedented challenge to the lucrative and highly respected global brand that is
Sesame Street
, which attracts an average of 1.2 million daily TV viewers in the United States and millions more around the world.
"It's sad that it took a second person to pop up for them to make the decision they made," said Mike Paul of MGP & Associates PR, a New York-based crisis management firm, who believes that Clash, 52, should have stepped down immediately after the first allegations came to light. "There is a big difference between the court of law and the court of public opinion."
But others believe the
Sesame Street
brand will not be damaged in the long term.
"It's a small step in the wrong direction. I don't think it's catastrophic to the show or the brand or what they've been doing for 40 years. This is an enduring brand, and they will move on from this incident," said Brad Adgate, an analyst at Horizon Media.
The scandal began in June when a man, now 23, contacted Sesame Workshop alleging that Clash had pursued a sexual relationship with him that started when he was 16. In a Nov. 12 statement, the firm said it had conducted a "thorough investigation" into the matter, including two meetings with the accuser, and found his claims regarding underage sexual contact to be "unsubstantiated."
However, the Sesame Workshop's internal investigation "did reveal that Kevin exercised poor judgment and violated company policy regarding Internet usage and he was disciplined," and he was put on leave from the show.
The allegations sparked an immediate media flurry, but only a day later, Clash's accuser recanted his claims via a statement from law firm Andreozzi & Associates.
"He wants it to be known that his sexual relationship with Mr. Clash was an adult consensual relationship. He will have no further comment on the matter," it read.
However, his promise to remain quiet didn't last long. On Friday, the gossip website TMZ reported that Clash's accuser was claiming that he had been pressured to retract his allegations.
"Personal matters have diverted attention away from the important work
Sesame Street
is doing and I cannot allow it to go any longer," Clash, who has won 23 daytime
Emmys
and one prime-time Emmy, said in a statement Tuesday. "I am deeply sorry to be leaving and am looking forward to resolving these personal matters privately."