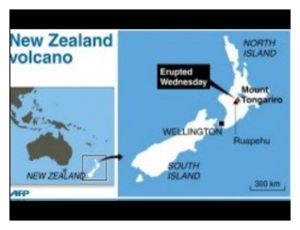 Wellington - New Zealand's Mount Tongariro volcano erupted on Wednesday, sending a column of ash high into the atmosphere of the country's North Island, scientists said.
The official GNS Science monitoring service issued a potential threat alert after the 1:25 p.m. (0025 GMT) eruption at the volcano which became active in August this year after lying dormant for more than a century.
Civil Defense authorities described the eruption as minor but said conditions could be hazardous in the vicinity of the mountain and nearby areas could experience ashfall.
The August eruption, the first since 1897, hit domestic flights and closed highways but Air New Zealand said it did not expect the latest activity to disrupt services, although it was closely monitoring the situation.
Local resident Clint Green witnessed the eruption and said it sent ash spewing about two kilometres (more than a mile) into the air.
"It was pretty spectacular. All of a sudden a towering black plume just began erupting very quickly, skyrocketing up," he told Radio New Zealand.
"At first I didn't believe what I was seeing."
There were no immediate reports of injuries.