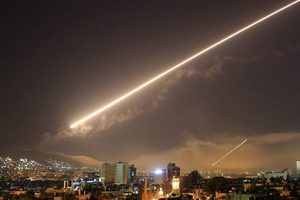 Syrian air defense systems protecting Damascus - the oldest continuously-inhabited city on Earth - from Western airstrikes, 14 April 2018
In the Truth there is no news, and in the News there is no truth
- Popular Russian saying under Soviet Communism
Recent Comments
Well, metre is an unit based on size of Earth, just like nautical mile. But the metre is kind of more natural (being derived from base ten,...
---
everybody knows Macron is a delusional bigmouth who tries very hard to earn himself some reputation. and always on the back of others, just ask...
---
History of Windows started then. There were no programming languages yet, so he started by designing a logo. It was initially rejected, but...
---
WTF, the Japanese have learned their lesson well of their master US. who does this Abe think he is, to demand anything of another sovereign...
---
Big threats from a small group squatting on someone else's territory. The un-holy war machine. Their god is a god of humane destruction. Read the...