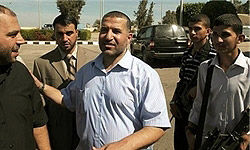 The Israeli army assassinated the deputy chief commander of the Palestinian Ezzedine al-Qassam Brigade, Ahmad al-Jabari, in an air strike on his car near Al-Amal Hotel in Gaza on Wednesday.
The Israeli terror attack killed two Palestinians and injured three others, including senior members of Ezzedine al-Qassam Brigade, the military wing of the Islamic resistance movement Hamas.
According to FNA dispatches, a companion of al-Jabari was also among those killed in the attack by Israeli jet fighters.
Some news sources reported that Hamas has confirmed al-Jabari's martyrdom.
The assassination comes after the Zionist regime officials had made open calls for the assassination of Hamas leaders, including the Palestinian Prime Minister Islmail Haniyeh.
Following the terror operation, the Israeli army started fresh attacks on Gaza's residential areas killing defenseless civilians, including women and children. Israel's air strikes and artillery raids on Gaza are still continuing and a thick cloud of black smoke has covered its sky.
Iran on Wednesday condemned the Zionist regime's fresh strikes on the Gaza Strip, describing the attacks as another example of the regime's "barbaric nature".
Iranian Foreign Ministry Spokesman Ramin Mehman-Parast deplored the Zionist regime's assaults on the coastal enclave which have resulted in the killing and injuring of dozens of civilian Palestinians, and said the onslaughts are another "sign of the regime's brutal nature".
He further blasted the international community, specially human rights bodies, for keeping mum about the Israeli atrocities against the Palestinians, saying their silence persuades the Zionists to "continue with their anti-human crimes".
The spokesman further mentioned that Israeli is seeking to hide its internal problems by diverting the world public opinion through such actions.