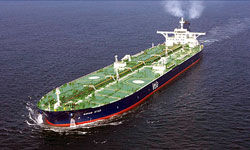 An Iranian official underlined failure of the US and EU ban on Iranian crude supplies, announcing that the country has increased daily exports to over 2 million barrels this week.
"Fortunately, the efforts made by Iran to increase oil exports and confront the sanctions have yielded results," the informed source told FNA on the condition of anonymity on Tuesday.
He stated that Iran's oil exports have reached the pre-sanctions level, "A daily volume of over 2mln barrels of crude oil has been exported from Iran to different destinations in recent days."
In June, Iran announced that it will increase its crude oil exports to 3 million barrels per day (bpd) by the next three years.
Addressing the 10th Russian Petroleum Congress RPGC in the Russian capital city of Moscow at the time, Managing-Director of the National Iranian Oil Company (NIOC) Ahmad Qalebani announced that Iran is determined to boost its oil extraction by 28 percent in order to produce 5,122,000 barrels of oil per day by 2015.
According to the planning, Iran's daily oil exports should rise from the current 2,280,000 barrels to over 3 million barrels, he added.
Increase in Iran's oil exports came two months after the 27 EU member states enforced an oil embargo on Iranian crude supplies.
The EU measure was ratified at a ministerial meeting in January, but the 27-member bloc deferred its implementation until July 1.
Meantime, Analysts believe that the EU started implementation of the sanctions against Iran at a time when it is experiencing its worst economic conditions.
"The EU is at its worst possible conditions," Director of Environment, Energy, and Economic Development Program at the RAND Research and Analysis Corporation Keith Crane told FNA in June.
Crane downplayed effectiveness of the western boycotts against Iran, and said, "Countries are able to bypass economic sanctions."