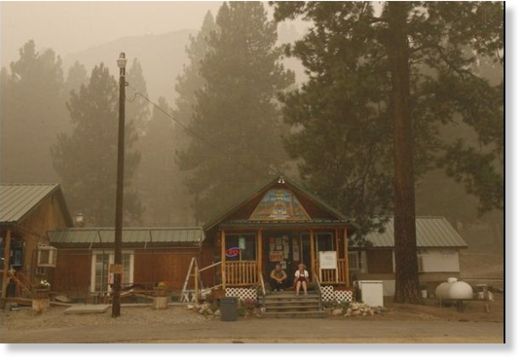 San Francisco - Thousands of people have been told to leave their homes as a wildfire burning Sunday in thick forest threatened rural communities in far Northern California.
The fire that sparked around 11:30 a.m. Saturday has destroyed four homes and consumed nearly 11 square miles near the towns of Manton, Shingleton, and Viola, fire spokesman Daniel Berlant said. About 3,500 homes spread out across a rural area along the border of Tehama and Shasta counties are threatened, he said.
"A good majority are immediately threatened and a good number are in the path of the fire," Berlant said Sunday. "We will be battling it hard today to protect as many of those homes as possible."
The cause of the fire has not been determined, but officials said it started after a series of lightning strikes in the area.
John Cluff, 42, told the Redding Searchlight that he was forced to flee his home before the evacuations were issued. He went back for his dog about 3:30 p.m.
"The fire basically chased me out of the property," he said. "All I could see was black smoke and flames."
The Shasta County Sheriff's Department has declared a State of Emergency for the county, with evacuations expected to continue through Sunday. The Red Cross has set up an evacuation center in Redding, about 35 miles to the west of the fire.
The fire, burning in a rugged area of thick forests about 170 miles north of Sacramento, is one of handful of new fires burning in Northern California.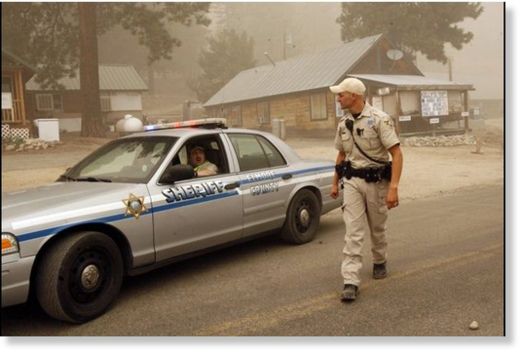 Another wildfire that started Saturday has consumed about 1.5 square miles east of the Mendocino County community of Covelo; the blaze, which was sparked by lightning, was burning in a remote area of thick timber and rugged terrain, making it difficult for fire crews to get to. A third new fire has scorched about a half square mile in a remote area of Shasta County.
Meanwhile, a massive wildfire that's been burning in the Plumas National Forest since July 29 grew larger late Saturday and early Sunday as strong winds pushed the fire past fire lines on the northeast edge of the blaze.
"Winds picked up and it got very dry in the afternoon," said fire spokesman Brad Pitassi. "It made a good push in that area"
The blaze, about 120 miles north of Sacramento, has consumed nearly 70 square miles and continued to threaten about 900 homes. The fire is 38 percent contained, with full containment not expected until Aug. 31.
Elsewhere in the West, fires also continued to rage.
In Idaho, about 1,100 firefighters worked to protect some 350 homes in the Featherville area under a mandatory evacuation as the Trinity Ridge Fire continued a slow approach toward the community.
"The fire will make it to Featherville," fire spokeswoman Mallory Eils said. "It's just a matter of when."
She said when that happens is hard to predict due to varying weather conditions. The area was under a Red Flag Warning on Sunday with the possibility of thunderstorms, and she said fire managers were preparing to light fires ahead of the main fire to protect the town but were waiting for the right conditions that would draw the backfire toward the main fire.
"They have a very specific plan lined up for how they are going to conduct the operation," she said, noting it included starting fires using helicopters.
She said many people had evacuated but some people chose to stay in the area that along with Pine is a recreation getaway in the mountains 105 miles northeast of Boise. It's unclear how many residents remained.
In Washington state, better weather conditions over the weekend have helped firefighters gain ground on fire that has scorched dozens of homes near Cle Elum, about 75 miles east of Seattle.
Jessica Payne, a spokeswoman for the Taylor Bridge fire, said Sunday that lightning strikes hadn't materialized as previously feared. Fire officials expect the wildfire to be contained on Monday if the weather remains favorable. The fire broke out last Monday at a bridge construction project and has burned across more than 23,000 acres of grass, sagebrush and timber in rural areas.
___
Source: The Associated Press
Associated Press reporters Keith Ridler in Boise and Phuong Le in Seattle contributed.