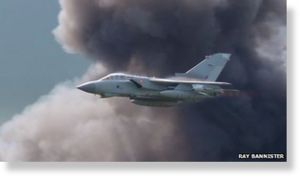 Two people have been picked up by helicopter after two RAF Tornado jets crashed in the Moray Firth.
The Ministry of Defence (MoD) said the Tornado GR4s, which each have a crew of two, were from RAF Lossiemouth, on the Moray coast.
One of the aircraft had been seen in the water and the other was classed as "missing", the MoD added.
The search for two missing crew stopped for the night at 10:45 BST due to bad weather, and will resume on Wednesday.
An MoD spokesman said: "The intention is to go back up tomorrow when the weather clears."
The RNLI said Wick, Invergordon and Buckie lifeboats were used to search for the missing pair.
Aberdeen Coastguard was alerted to the incident at about 13:50.
An RAF helicopter picked up two people and flew them to Raigmore Hospital in Inverness.
The three lifeboats have been searching an area 25 miles (40km) south of Wick, in the Beatrice oil field, for the two crew who remain missing.
The field has an oil and gas platform and two experimental offshore wind turbines.
Lossiemouth's station commander, Gp Capt Ian Gale, said he could not give out any information at this stage on the condition of the two who were rescued.
He said: "It is with regret that I must confirm the loss of two Tornado GR4 aircraft from this station in an incident in the Moray Firth.
"The circumstances remain uncertain, but clearly this is a very serious incident.
"The thoughts from everyone here is with the families and friends of those involved."
Scotland's first minister issued a statement following the crash.
Mr Salmond said: "This is clearly a very serious incident and my thoughts are with the loved ones of those affected.
"I understand rescue services have done all they can to help with the situation and offer my thanks to all those involved."
There have been previous accidents involving RAF Tornado aircraft.
In January 2011, an uncontrollable engine fire caused a Tornado GR4 to crash into the sea off north west Scotland.
The aircraft - based at RAF Lossiemouth - suffered a problem in its right engine while on a training mission.
The crew in that incident managed to eject to safety and were treated in hospital in Inverness.
An RAF board of inquiry investigation said they had acted calmly and professionally.
The following month, a Tornado crew was forced to eject after experiencing problems landing at RAF Lossiemouth.
They were taken to hospital, but were not thought to have been seriously injured.
Developed in the 1960s and 1970s, the Tornado GR4 has seen almost 40 years of service with the RAF.
The jet has undergone several upgrades.
The aircraft were flown in action during operations in Libya last year.
Tornado crews fly out of Lossiemouth on hundreds of training sorties every year.