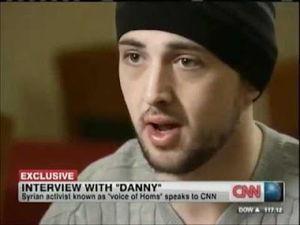 Danny Abdul Dayem is a 22 year old British citizen, of Syrian descent, from Cambridge. In the summer of 2011 he escaped the Syrian city of Homs to Egypt; and then moved to London for a few months. In December of 2011, he secretly returned to Syria through Lebanon. While in London, Danny performed many interviews with some media agencies, as an "eyewitness" from Homs, allegedly shot upon by the Syrian security forces. Clearly, he was on a mission to take full advantage of the air time given him, to transmit propaganda of the idea of a "Syrian revolution". Instead of the reasonable quizzing and healthy skepticism, expected of a professional news entity, on Newsnight, Danny was given free reign to speak, unchallenged. The different accounts gave to numerous news channels, including Sky News, al Hiwar, Alarabiya (in Arabic) and the
Guardian
were somewhat alarming. Here are some of inconsistencies:
BBC interview September 7 2011
1. (At 00.08) Danny's answer to the first question summed the intended message all up: "Yes, I've seen EVERYTHING".
2. (At 00.35 ) He shows a video that proves absolutely nothing
3. (At 01.48) He claims that: "three quarters of the shots are aimed and one quarter is just to scare people". If this was true, tens of thousands of Syrian protesters would have lost their lives, rather than the reported, but unsubstantiated figure of 6000 provided by the western and GCC media.
4. (At 02.34) He tells Newsnight anchor Jeremy Paxman that a car stopped two meters behind him, and someone inside shot him. Yet, the bullet managed to "come right in his waist and out of his back"?
5. (At 03.08) Danny tells Jeremy that he was shot by a SINGLE bullet that went through his body and presumably left two scars.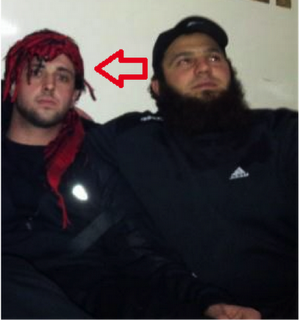 This
Sky News report, clearly shows a single scar in the middle of Danny's back.
In
this
al Hiwar interview (at 13.50) (7) he tangles himself in even more knots when he shows the presenter TWO dressed wounds to the sides of his back.
Adding even further confusion to the picture, the
Guardian
reported that Dayem had five stitches, in the hospital, on EACH wound!
In his latest interview, on
al Alarabiya
, Danny reverts to the story of the single bullet that went through his waist and out his back. But at 00.15, Danny speaks of his friend throwing him on the floor and then "standing up" in front of him to take three bullets!! We find it hard to imagine anybody who would do such a thing. Standing up in front of a car, two meters away, with "security/ shabeeha" inside it, most probably "aiming" at the two of them.
Back to the
Newsnight
interview at 02.36 he tells Paxman that a bomb exploded before he was shot. Then in the al Hiwar interview at 10.39 he told the presenter a bomb exploded before he was shot and another bomb exploded after he was shot. During the al Alarabiya interview at 00.50 Dayem adds that one person (from the al Khaznadar family) died, when the bomb exploded - something he did not mention in previous interviews.
At 03.25: There was no explanation offered as to why the mentioned car managed to drive away, although it took a mere five minutes for people to get to Dayem and his friend despite the sound of the shooting and the explosion of the grenade(s) he claimed was thrown at them. This suggests the alleged incident occurred in an isolated area. If those armed men were army or security personnel, what would frighten them in an isolated area after they had injured Dayem and his friend? Why were Dayem and his friend shot at in the first place? Why would they be shot at by security forces? According to Dayem, protesters were shot at when they went out on the streets, but in his story this was not the case.
At 03.58 if the aim of security/ "shabeeha" is to kill injured protesters who go to hospital for treatment; driving away in an isolated area does not seem like a better option than stopping and killing their victims.
At 04.19: Dayem's statements seems to change as he recounts his story: "They shoot at night and wait at hospitals in the morning... [and]... actually go at night to the hospitals too".
During the al Hiwar interview at 20.05: he says that at first he was not asked about his wound, in the airport, and if he was then he would have told them it was a kidney operation. Seconds later, he goes on to say he told them it was an operation and that they let him go without any trouble.
At 05.15 during his interview with Paxman, Dayem claims he told officials at the airport that he had a kidney operation.
At 06.17 he says that the protests can't stop because, "Bashar al Assad has got videos for every protester that is going out and will catch them one at a time"
If the President and his security have videos of all protesters, how was it so easy for Dayem and his family to leave the country without harassment or hindrance by security?
When Dayem was in London, a conversation happened between him and other Syrian youth on Facebook where he was told: "be careful Danny, the news channels are using you, this is their job, and they search for people like you to make some interviews! I'm telling you this, because I know how things work and I don't want you to fall in this trap. You are the owner of yourself, don't let the media plays with you, at the end, this is your country, and we are all Syrians, but the media has their own agendas and they are all pressured and directed by lobbies." Dayem replied, "Thanks for the advice, but a friend is helping and he's a lobbier"
Danny describes his "political views" on Facebook as: "I think we should live peacefully like a fish". However, he is certainly involved in helping and supporting the terrorist militia of the so-called "Free Syrian Amy", who have conducted many terrorist attacks upon public and private entities including orchestration many explosions of oil pipelines bringing blackouts to large parts of the country, suicide attacks in Damascus and Aleppo and hung and beheaded many supporters of the government who spoke to observers from the Arab League. All of these incidents have been documented by this blog.
Dayem hasn't hidden his political agenda, and he
clearly states
that he wants US and Israel to intervene militarily in Syria to overthrow the Syrian regime.