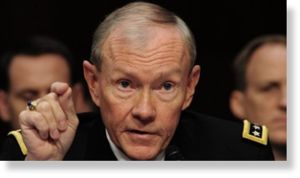 Chairman of the US Joint Chiefs of Staff General Martin Dempsey has warned against a military invasion of Iran over its nuclear program, describing such a move as imprudent.
"It's not prudent at this point to decide to attack Iran," Dempsey told CNN in an interview that is reportedly scheduled to be broadcast Sunday morning.
"I think it would be premature to exclusively decide that the time for a military option was upon us," he further stated.
According to the US-based news network, Dempsey believes that a military strike against Iran would be destabilizing and that it would not serve the interests of anybody, especially the Israelis.
"A strike at this time would be destabilizing and wouldn't achieve their (the Israelis') long-term objectives," Dempsey added.
Reflecting on his concerns over repeated threats of attack on Iran by the Tel Aviv regime, Dempsey said, "I wouldn't suggest, sitting here today, that we've persuaded them (Israelis) that our view is the correct view and that they are acting in an ill-advised fashion."
The comments by Dempsey come as US National Security Advisor Tom Donilon traveled to Israel on Saturday to discuss Iran with senior Israeli officials.
US President Barack Obama, Defense Secretary Leon Panetta and other top national security officials have warned Israeli leaders about the "dire consequences of a strike."
The US, the Israeli regime and their allies have long been accusing Iran of pursuing a military nuclear program without pointing to any verifiable evidence, using the allegation as a pretext to pressure the UN Security Council to impose four rounds of sanctions against the Islamic Republic.
Iran has rejected such allegations by the West, arguing that as a signatory to the nuclear Non-Proliferation Treaty and a member of the International Atomic Energy Agency (IAEA), it has the right to develop and acquire nuclear technology for peaceful purposes.
This is while it is widely believed that the US-backed regime in Tel Aviv possesses between 200 and 400 nuclear warheads; Tel Aviv refuses to join any international nuclear regulatory body.