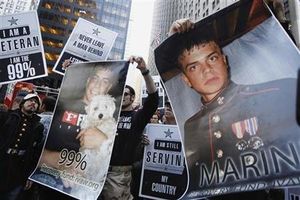 Los Angeles - Ex-Marine Scott Olsen, whose injury during clashes between Oakland police and demonstrators gave impetus to anti-Wall Street protests, said on Sunday he is "feeling a lot better" in his first public statement since his injury.
In a message posted to social networking site Google Plus, 24-year-old Olsen thanked those who had been tracking his progress for their outpouring of support.
"I'm feeling a lot better, with a long road in front of me," Olsen wrote. "After my freedom of speech was quite literally taken from me, my speech is coming back but I've got a lot of work to do with rehab."
The post is accompanied by a photo of Olsen, smiling with a neck brace on and a visible scar on his forehead.
"Thank you for all of your support, it has meant the world to me," he continued. "You'll be hearing more from me in the near future and soon enough we'll see you in our streets!"
Olsen was released from the hospital late last week, his friend Adele Carpenter, 29, told Reuters.
Occupy Oakland organizers say Olsen was hit in the head by a tear gas canister police fired during a downtown Oakland confrontation on October 25. He was admitted to a local hospital in critical condition.
Acting Oakland Police Chief Howard Jordan has opened an investigation into the circumstances surrounding Olsen's injury but police and city officials have not said how they believe the Iraq veteran was injured.
Word of Olsen's injury gave fresh stimulus to the Occupy Wall Street movement that began in September. Activists in Oakland and elsewhere took to the streets, holding candlelight vigils and marches in his honor.
Olsen's statement had received hundreds of responses in support by Sunday evening, with Olsen chiming in at one point during the afternoon to say, "see, this is the kind of support I was talking about."
Olsen served two tours in Iraq, working as a technician and earning a handful of service medals.
Friends say he soured on military life after leaving the service and started a now-defunct website called "I hate the Marine Corps" which served as a forum for disgruntled servicemen.
Olsen received an "administrative discharge" from the service in late 2009, his uncle George Nygaard has said, though the precise reasons for it have not been confirmed.
Such a discharge can result from any number of behavioral or disciplinary issues.
Editing by Jerry Norton.