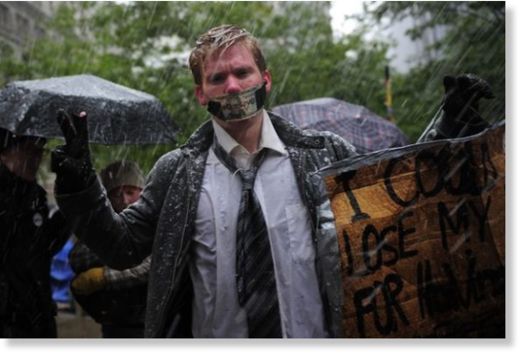 Saturday's snowstorm tested the mettle of Occupy Wall Street protesters just a day after the FDNY confiscated the group's main heat sources, which the protesters are demanding be returned.
The protesters, represented by attorneys from the National Lawyers Guild, said that the confiscation of six generators and fuel on Friday was a pretext by the city to begin dismantling their lower Manhattan encampment, which has been in place since Sept. 17. The FDNY said cited r safety reasons.
"Contrary to the Mayor's public justifications, the seizures were not motivated by health or safety concerns," the group said in a letter Saturday addressed to FDNY Commissioner Salvatore Cassano.
"Without articulating any identifiable hazard posed by the generators, the city removed a source of heat for hundreds of people one day before the correctly predicted onset of freezing temperatures and snow,"
the letter said.
Indeed, this weekend's weather was a trial for the protesters, with some of them estimating that the movement lost at least 20% of its supporters because of the weekend.
"We knew this would be tough. We didn't start this as a sort of summer of love, it's the winter of discontent,'' said Alan Collinge, 41, from Seattle, who was hunkered down in a tent.
This weekend also brought reports of sexual assaults, with a man allegedly forcing his way into a woman's tent and sexually attacking her Saturday morning,
according to the New York Post
.
The protesters didn't call the NYPD and simply said they were dealing with it "internally," according to the Post. A representative for Occupy Wall Street didn't return calls yesterday.
Source: DNAinfo and Reuters