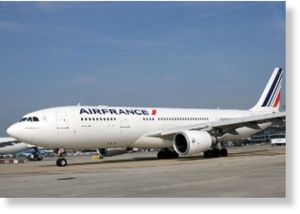 About one in five flights scrapped
Strike over work conditions to last five days
Minister denounces unions for peak-period stoppage
Air France expects to cancel about 200 flights on Sunday as a result of a five-day cabin crew strike over employment terms that began on Saturday in the middle of a busy holiday period.
The carrier, which cancelled 10 long-haul flights to destinations such as New York, Tokyo, Montreal, Abu Dhabi as well as cities in West Africa on Saturday, forecast more of the same on day two of the stoppage.
Discontent among travellers appeared to have been limited to an extent by the advance warnings that reduced the number of people turning up to find themselves stranded at airports.
The airline said in a statement it was managing to ensure the operation of around 80 percent of some 1,000 daily flights, short- and long-haul, at the two major Paris airports, Orly and Charles de Gaulle on Sunday.
Several unions are urging cabin staff to strike until the end of Wednesday, raising the prospect of serious disruption during what is a busy travel period. One of their grievances is a plan to reduce staffing on long-haul trips.
Tuesday, Nov. 1 is a public holiday in France and many people take Monday off to extend the weekend break. It also falls during the mid-term school holidays.
Transport Minister Thierry Mariani denounced the strikers, saying they were shooting themselves in the foot by disrupting air traffic in a peak period.
"Management has been very clear. There is no threat of job cuts," he told LCI television. "If the company has problems, it's not a five-day strike at a big exodus time that will improve its image and competitiveness."
Air France's Michel Emeyriat, executive president of ground operations, said the unions' grievances were pure "fantasy" and accused them of irresponsibly insinuating that the airline was running flights with fewer cabin staff than required under safety regulations.
"This strike has no reason to exist," he said on BFM TV, adding that there had been few last-minute flight cancellations but that the airline was delivering on a forecast to run an 80 percent service.
The airline offered refunds for cancellations or delays of more than five hours in advisories on its website, www.airfrance.fr.
Air France issued a statement last Thursday saying it could not understand union demands and was in fact considering recruiting rather than shedding staff.
But the unions are unhappy with reorganisation of flight staffing and say the carrier is adopting the policies of low-cost operators.
Shares in Air France-KLM, which is due to publish financial results on Nov. 9, took a hit this week when a media outlet said it was preparing to issue a profit warning. The carrier said last Tuesday, in response to that media report, that it would not publish any financial information before Nov. 9.
Air France-KLM, Europe's largest airline when measured by revenue, was formed by the merger in 2004 of Air France and Dutch carrier KLM. The industrial action concerns only the French side of the operation.
Another major world airline, Australia's Qantas Airways , grounded its entire fleet on Saturday in a bitter labour dispute.