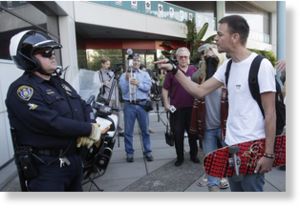 Oakland's police chief on Friday defended officers involved in a clash with anti-Wall Street protesters, saying they used what they believed to be the least amount of force possible to protect themselves.
Interim Chief Howard Jordan said he takes full responsibility for the actions of his officers, whom protesters accused of injuring an Iraq war veteran during the clash Tuesday night. Scott Olsen remained hospitalized in fair condition with a fractured skull after he was struck in the head by an object fired by police, fellow veterans said.
Jordan's comments came amid continued protests in large cities across California, including in Oakland where many re-established camp outside city hall despite police attempts at dismantling it. Across the bay in San Francisco, hundreds of demonstrators maintained a tent city in a public plaza, while 51 people were arrested in San Diego as police there cleared them from a park. Left-wing filmmaker Michael Moore was scheduled to appear at the Oakland protest later Friday.
Jordan said he and city staff had reached out to the protesters. He also promised that allegations of misconduct and excessive use of force would be thoroughly scrutinized, saying in a statement that he was "concerned about the injuries to protesters and officers alike; the decision to use any level of force is never taken lightly, and certainly was not in this situation."
Oakland officers did not suffer any serious injuries during the clash Tuesday, just "bangs and bruises from bottles and other objects that were thrown at and on them," said Cynthia Perkins, an assistant to the director at the police department.
The object that injured Olsen has yet to be definitively established, as well as the person responsible for the injury. His plight has become a rallying cry at Occupy protests around the world.
Farther south, police in San Diego descended early Friday on the encampment that has housed demonstrators at the Civic Center Plaza and Children's Park for three weeks. Dozens of officers and San Diego County sheriff's deputies raided the site around 2:30 a.m., declared an unlawful assembly and removed tents, canopies, tables and other furniture.
San Diego protester Chuck Stemke, a 32-year-old mechanical designer, said he awoke to a loud noise and looked out of his tent to see hundreds of police marching toward him in the darkness. He said he scrambled out and started packing up what he could after demonstrators' lost costly tents a few weeks ago in a similar raid.
"It was very intimidating," he said. "There was a huge show of force."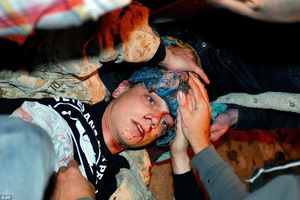 Authorities arrested 51 people who faced charges including illegal lodging, illegal drug use, unlawful assembly and other charges. Twenty-four people were arrested on charges of blocking officers from performing their duties, police said.
Police said there had been numerous complaints about unsanitary conditions created by human and animal feces, urination, drug use and littering, as well as damage to city property. They said demonstrators may return - without tents and other belongings - after the cleanup is finished.
San Diego police Chief William Lansdowne said negotiations with demonstrators had broken down and officers received no cooperation. He said he decided to launch the operation at night because fewer people were there than in the day, when the number of demonstrators has swelled from 75 to about 120.
More peaceful protests continued in Fresno, Sacramento and San Francisco, where only a handful of police officers patrolled the area across from the historic Ferry Building where 200 to 300 demonstrators were gathered.
More protesters have arrived at that camp since police in Oakland dismantled the encampment across the bay, said protester Jean Pierre.
"With each march and raid, the camp seems to grow a little more," said Pierre, 26, of Eugene, Ore.
A small group of protesters met a day ago with Mayor Ed Lee, who told them the city officials remain concerned about health and safety at the camp, said protester Phil Oje. The camp members asked that the police not raid the camp as they did nearly two weeks ago, but Lee made no promises, Oje said.
The protesters planned to march through downtown in costume on Saturday, two days before Halloween.