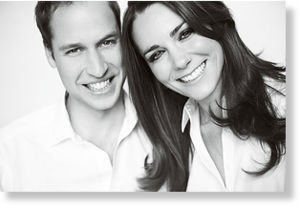 It's taken 300 years, but the old boys club of royal primogeniture has finally been shelved.
Sixteen Commonwealth "realms" that still maintain the Queen as their head of state agreed Friday to change the rules of succession that have favoured boys over girls since the 17th century.
The rules of primogeniture - which determine the constitutional figurehead of Canada, the United Kingdom and Australia, among others - were belatedly dragged into the 21st century by dint of the massive popularity of Prince William and his wife Kate, the Duchess of Cambridge.
"In future, the order of succession should be determined simply by the order of birth," British Prime Minister David Cameron said in announcing the agreement at a Commonwealth leaders' summit. "And we've agreed to introduce this for all descendents from (Charles) the Prince of Wales."
"Put simply, if the Duke and Duchess of Cambridge were to have a little girl, that girl would one day be our queen."
The 16 countries have created an international group to co-ordinate efforts so that all can "implement these measures at the same time," said Cameron.
The rule changes also take out long-standing discrimination against Catholics that date from England's ancient religious schisms.
For heirs to the throne, said Cameron, "it is simply wrong that they should be denied the chance to marry a Catholic if they choose to do so. After all, they're already quite free to marry someone of any other faith."
Prime Minister Stephen Harper did not give a timeline for when legislation will be brought to Parliament for approval, but said he hopes to have it done quickly.
"There was universal agreement, unanimous agreement, that these changes simply recognize the equality of women and Catholics and they're long overdue," Harper told reporters.
The changes, which have been contemplated for years, come as the Queen is about to celebrate 60 years on throne in 2012.
Cameron said her personal secretary took part in Friday's discussions at the Commonwealth summit, indicating royal approval.