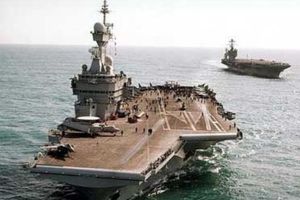 French warships have shelled parts of coastline of the Horn of African state of Somalia with more than 20 heavy missiles, Press TV reports.
The missiles are reported to have struck the town of Kuda and the port of Kismayo, a Press TV correspondent reported on Thursday.
Witnesses said that four cruise missiles hit near Kismayo while another six missiles struck Kuda.
There has been no immediate report on the number of casualties.
Kenyan officials confirmed the French navy's role in Somalia. However, Paris denied having deployed any warships in the area.
The French navy is said to be assisting Kenyan forces which crossed into Somali borders more than a week ago in hunt for al-Shabab fighters.
Kenyan troops have launched an air and ground offensive against Somali's al-Shabab fighters, accusing the group of kidnapping foreigners on its soil.
Somalia has not had a functioning government since 1991 when warlords overthrew former dictator Mohamed Siad Barre.