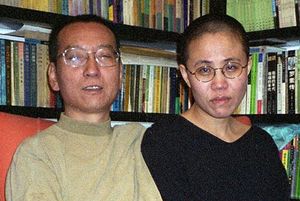 A human rights group suing Cisco for aiding the tracking and torture of people in China claims it has new evidence proving the tech giant tailored its technology to specifically enable these abuses.
If accepted by the court, the revelations, including that Cisco trained Chinese officials in how to surveil net users, could prove damning for the company, which has always claimed it has done no more than sell stock standard technology to the regime.
The Human Rights Law Foundation, based in Washington, filed its suit against Cisco in May under a law that allows US companies to be sued for violations of human rights committed abroad.
The suit accuses Cisco, one of the world's largest technology companies, of aiding the Chinese government in monitoring and jailing members of the banned Falun Gong by helping to develop the "Golden Shield Project".
The case is running in parallel to a
separate case
, reported on by Fairfax Media last month, that was brought against Cisco on behalf of Chinese political prisoners who claim they were tortured and suppressed thanks to technology and training provided to the Chinese Communist Party by Cisco.
Their crime was little more than publishing articles on the internet criticising China's one-party system and advocating regime change.
A key part of the latter case is a leaked Cisco presentation from 2002 in which the company reveals how its products can address China's goals of "maintaining stability", "stop the network-related crimes" and "combat 'Falun Gong' evil religion and other hostiles".
In an amended statement of claim filed in the Falun Gong case the Human Rights Law Foundation says it has found evidence further implicating Cisco.
It claims Cisco CEO John Chambers repeatedly met with Jiang Zemin - "the founder of the persecutory campaign against Falun Gong" - during the design and development of the Golden Shield.
Senior Cisco executives, including Chambers, knew of the campaign of torture and persecution of Falun Gong practitioners in China but authorised and participated in the Golden Shield project anyway, the complaint claims.
The amended claim quotes a Cisco engineer describing the all-encompassing monitoring Cisco's technology allowed the Chinese government to conduct.
"Cisco provided a secure connection to provincial security databases allowing for thorough cross-checking and movement-tracing ... [such that] policemen could remotely access the suspect's work unit, access reports on the individual's political behaviour ... family history ... fingerprints, photographs and other imaging information," the engineer is quoted as saying.
"The Chinese police could even check remotely whether the suspect had built or contributed to a website in the last three months, access the suspect's surfing history and read his email."
The Golden Shield Project - which makes up part of what is known as the Great Firewall of China - is used by the Chinese government to eliminate references to politically sensitive topics such as Tiananmen Square, 2010 Nobel Peace Prize Winner Liu Xiaobo (jailed for 11 years for his political writings) and the Jasmine Revolution sweeping through the Middle East.
Sites such as Facebook and Twitter are also blocked.
The complaint claims that Cisco with its agents developed "antivirus software" that was used by Chinese officials to identify, block and track Falun Gong users and their internet activities.
It claims Cisco created new "first-of-their-kind features that Cisco suggested Chinese security officers use to facilitate the detection, apprehension and interrogation of Falun Gong, knowing that the interrogation of Falun Gong practitioners included and resulted in their torture and further persecution."
Cisco allegedly marketed its security software as the only product capable of recognising "over 90 per cent of Falun Gong pictorial information". It was able to do this by identifying and analysing internet activity that is unique to Falun Gong practitioners and then use these "digital signatures" to track them.
The company "specifically designed and customised the Golden Shield apparatus (including hardware and software) with the scale, complexity and capacity required to enable [Chinese officials] to monitor the Chinese population and identify, track, apprehend, interrogate, detain and torture Falun Gong practitioners".
Without Cisco's help Chinese officials would not have as easily been able to "obtain sensitive information such as home and work addresses, purchases, financial information, contact with other Falun Gong members, past Falun Gong activities, IP addresses and family information (used for interrogation purpose)".
The system was so far-reaching it enabled authorities to coordinate large-scale investigations to locate, track, apprehend and persecute Falun Gong members from anywhere in China without having to search homes, ransack their offices and homes for evidence or detain and interrogate them for more information, the suit claims.
Cisco has always claimed that it simply provided the equipment to China and denied taking part in training or customising its products in a way that would facilitate censorship or repression. It would not comment on the new claims filed this week other than to say it was assessing the material.
Daniel Ward, of US law firm Ward & Ward, who is running the other case on behalf of the Chinese political prisoners, said the new evidence was "huge".
He said it "lays bare" Cisco's story that the leaked internal PowerPoint presentation used in Ward's case was an outlier to be ignored. Ward said he would be using the new evidence as part of his case.