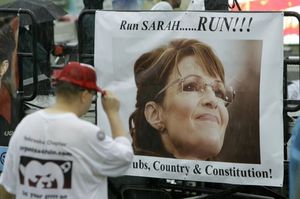 For all the tea party supporters who showed up in Iowa to hear what
Fox News
called a "major announcement" from Sarah Palin, perhaps her message should have been "psych." Palin spent a majority of her
40-minute speech
thrashing the current administration for its policies and little else.
Only about 2,000 people showed up to hear a Tea Party of America public figure speak about how bad things are in America. At the Restoring America event, Palin said many things she would do.
Bloomberg reports
Palin wouldn't approve any bailouts yet get rid of corporate income taxes. The former governor of Alaska also said the tea party has been "mocked."
One thing Palin didn't say was whether or not she was running for president. Despite many signs in the crowd saying "Run Sarah, Run" she was coy about her political ambitions. The night before her speech, Palin said she could see more room for candidates yet she
liked the current field
running in the GOP primaries for 2012.
Palin had better hurry. Conservatives4Palin.com reports she's only raised $1.6 million in the first half of 2011 vs. over $18 million for Mitt Romney, according to
USA Today
. If she wants to run for office and gain a fundraising advantage over her opponents, Palin
should declare soon
in order to move forward with her campaign. The first primary election is January, just five months away. Other candidates who have already declared an intention to run have gained more money in the meantime.
There was rain on a day when Palin showed up at the behest of the Tea Party of America. Even though buses showed up from as far away as Texas and New Mexico, it wasn't enough to show Palin actually meant something to the tea party. Just like Palin's movie entitled
The Undefeated
, perhaps it was bad scheduling on the part of conservative politicians.
Her
movie ran against
Harry Potter
in theaters. Now, Palin's appearance in central Iowa coincided with the first weekend of college football and the Labor Day weekend. Maybe the tea party would have done better if she spoke at the Tennessee Tech vs. Iowa football game. Her attendance figure would have been closer to 70,000 instead.
How many times will fans of Palin realize she may or may not deliver on what they want? She's stayed mum on her plans to run for president. Even if she does run, that's not a guarantee she will win. Keep in mind her record as governor of Alaska -- Palin resigned with 18 months left in her term so she may not follow through with anything.
The Tea Party of America even flaked out. There were no major announcements at the speech. Only 2,000 people showed up. It was all style and no substance. Hopefully tea party members won't be the same way when and if they get elected to office.
William Browning is a research librarian specializing in U.S. politics. Born in St. Louis, Browning is active in local politics and served as a campaign volunteer for President Barack Obama and Missouri Sen. Claire McCaskill.