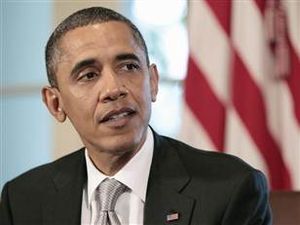 It's been a tough summer for swing-district Democrats seeking reelection in 2012 with a president at the top of the ticket whose approval ratings are in the weeds.
As these members begin to focus on their reelection bids after Labor Day, they are increasingly calculating how close is too close to an unpopular President Obama.
Take Rep. Peter DeFazio, D-Ore., who represents a district that nearly went for Republican George W. Bush in 2004. In a recent local TV interview, DeFazio said of Obama that the word "fight" isn't "in his vocabulary" -- and he then repeated the criticism to constituents at a town hall. Or Rep. Bill Owens, D-N.Y., who won a Republican-friendly district in a special election last year and pointedly declined to endorse the sitting president last week.
The president's dismal poll ratings, should they continue into next year, could sink Democratic hopes for reclaiming ground in the House and retaining control of the Senate -- especially in battleground states and swing districts.
"If he is where he is now, it's not going to work for Democrats," said Rep. Dan Boren, D-Okla., who opted earlier this year not to seek reelection in his competitive district.
Democrats are also keeping their distance in two House special elections taking place later this month -- in both a solidly-Democratic district in New York City and a Republican-leaning one in rural Nevada. The sting of Obama's low approval ratings is already being felt in Queens and Brooklyn, where Republican candidate Bob Turner has turned the Democratic-leaning district into a battleground by framing the special election as a referendum on the administration and its treatment of Israel. Liberal firebrand Anthony Weiner held onto that district with ease for more than a decade, and even when scandal forced him out of office, few had thought the race to replace him would be close.
In the Nevada race to replace Sen. Dean Heller, R-Nev., in the House, national Republican groups have aired advertisements connecting Democratic nominee Kate Marshall with Obama. Strategists from both parties expect Republican Mark Amodei to prevail -- in a district where Obama won 49 percent in 2008.
It's a sea change from the early days of his presidency, when liberal and moderate Democrats alike sought to tie themselves to the president and benefit from his popularity and charisma. Most moderate Democrats supported his stimulus and health care reform legislation that they're now distancing themselves from. Less than two years ago, Owens tied himself to the president's agenda in his initial campaign for Congress. That's now a distant memory.
Obama's approval has dropped below 40 percent in Gallup's tracking poll in recent weeks, and surveys show him running even with Republican presidential front-runners Mitt Romney and Rick Perry. Most analysts believe Obama's approval needs to be at least above 45 percent to have a good chance of winning reelection next year.
"I represent a district that Obama lost by 11 points in 2008," said Rep, Jason Altmire, D-Pa., whose conservative district is being targeted by national Republicans. "I would not expect him to do well in this district."
But Obama's iffy prospects shouldn't send Altmire and other vulnerable Democrats fleeing from the president, veteran strategists say. The calculus is a complicated one that should take into account that Obama remains more popular than Republicans in Congress.
Running away from the president could discourage loyal Democrats who still have faith in Obama from turning out at the polls in 2012. What's more, if the Republican nominee turns out to be a tea-party branded conservative like Rick Perry or Michele Bachmann, Obama could plausibly pitch himself as the more reasonable, less ideological candidate to independent voters.
Democratic strategists suggest that downballot Democrats should focus on the president's agenda, which includes a balanced approach to deficit reduction with both tax increases and spending cuts, protecting Social Security and Medicare, and raising taxes on the wealthy.
"Anyone who says Obama is going to be a drag on the ticket should look [at] the polling numbers for congressional Republicans," said Mary Anne Marsh, a Massachusetts-based Democratic consultant. "Democrats running in 2012 should realize that the better he does, the better they will do.''
In 2010, a number of Democrats sought to steer clear of the president to no avail. The Democratic nominee for governor in Florida, Alex Sink, ducked Obama during fundraising visits and ended up narrowly losing to Republican Rick Scott amid disappointing Democratic turnout. Former Rep. Gene Taylor, D-Miss., went so far as to announce during his reelection campaign that he voted for John McCain in 2008. The 21-year incumbent fell to a first-term state representative.
"There are a number of people -- who are now former members of Congress -- who tried to distance themselves from the president. It didn't work," said Philadelphia-based Democratic consultant J.J. Balaban.
Florida-based Democratic pollster Dave Beattie noted that despite Obama's waning popularity, some surveys show him in greater favor than the conservative tea party movement. Beattie pointed to four Democratic senators -- Chris Coons in Delaware, Richard Blumenthal in Connecticut, Michael Bennet in Colorado, and Harry Reid in Nevada -- who won tough races in 2010 not by distancing themselves from Obama, but by running moderate campaigns that contrasted favorably with their more colorful, edgy Republican rivals.
Democrats running in 2012 should take their cue from those 2010 successes, Beattie said.
"There's a greater fear of tea-party extremism than a fear of Obama,'' he said. "I don't think there will be a lot of Democrats actively running against Obama because those who are left are in swing areas where the president will be competitive.''
The place where vulnerable Democrats are most likely to break with the president is over spending cuts. While they are on solid ground to criticize Obama for not going far enough to trim the budget, they may go astray if they start personally attacking him.
"Democrats don't want their races to be about Obama,'' said Beattie, "but for many of them, he's still a net positive."