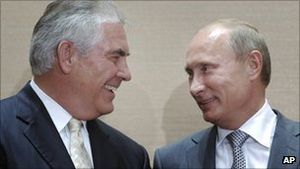 US oil major Exxon Mobil has clinched an Arctic oil exploration deal with Russian state-owned oil firm Rosneft.
The venture seemingly extinguishes any remaining chance of BP reviving its own deal, which lapsed in May.
The agreement was signed on Tuesday in the presence of Prime Minister Vladimir Putin, a Rosneft spokesman said.
Prime Minister Putin said that it would also allow Rosneft to develop fields in the Gulf of Mexico and Texas, according to local media reports.
"New horizons are opening up. One of the world's leading companies, Exxon Mobil, is starting to work on Russia's strategic shelf and deepwater continental shelf," he said.
Big Win
Under the agreement
, the two firms will spend $3.2bn on deep-sea exploration in the East Prinovozemelsky region of the Kara Sea, as well as in the Russian Black Sea.
Exxon described these areas as "among the most promising and least explored offshore areas globally, with high potential for liquids and gas".
The two companies will also co-operate on the development of oil fields in Western Siberia.
Exxon spokesman Alan Jeffers told the BBC: "[The Russian Arctic] is among the most promising and least explored regions for oil, that is why we are very interested.
"Exxon Mobil has developed an excellent working relationship with Rosneft [in recent years]."
Analysts agreed that the joint venture would allow both sides to spread the risks of operating in the Arctic and enables Rosneft to benefit from Exxon's superior deepwater drilling expertise.
BP's own Arctic deal with Rosneft - originally agreed in January - was scuppered by a legal challenge from the Russian co-investors in BP's existing Russian joint venture, TNK-BP.
"If this is essentially the BP deal, it is exposure to a pretty significant resource base," said Jason Gammel, energy analyst at Macquarie Research, adding it was a "pretty big win" for Exxon.
"There's a lot of risk that's involved in [the Kara Sea exploration]. BP was looking at several billion dollars of exploration expenditures up there."
Analysts said that Rosneft was known to be keen to push quickly ahead with its Arctic exploration plans after the BP deal fell through, with Shell also thought to have been in the running.