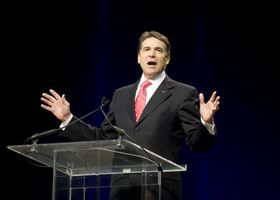 The fundamental facts of the presidential race at this moment are that unemployment is high, the economy is by far the most important issue to American voters, and President Obama's handling of economic questions is overwhelmingly unpopular. Republican presidential hopefuls Rick Perry, Mitt Romney, Michele Bachmann and others are hammering the president daily on matters of job creation and economic growth.
Now some of Obama's activist allies and supporters in the press are engaged in a sharply focused effort to change the subject. Even as economic anxieties continue to rise, some of the nation's premier political journalists are consumed with the alleged influences of obscure religious philosophers on Republican candidates; on questions of creationism, evolution, and the age of the Earth; and on the fantasy that a Republican president might transform the United States into an Iranian-style theocracy.
For example, the
Daily Beast/Newsweek
recently published an article titled "A Christian Plot for Domination?" claiming that
Perry and Bachmann are "deeply associated with a theocratic strain of Christian fundamentalism" known as Dominionism.
A widely discussed article in the Texas Observer claimed that Dominionists -- a "little-known movement of radical Christians" -- are readying an "army of God" to "commandeer civilian government," with Perry the "vessel" for their ambitions. Finally, the New Yorker published a long article claiming that Bachmann believes "Christians, and Christians alone, are Biblically mandated to occupy all secular institutions until Christ returns."
Surveying those articles, the executive editor of the
New York Times
, Bill Keller, concludes that "an unusually large number" of Republican candidates "belong to churches that are mysterious or suspect to many Americans." Perry and Bachmann, in particular, are connected to "fervid subsets of evangelical Christianity," which Keller says "has raised concerns about their respect for the separation of church and state, not to mention the separation of fact and fiction." Fearing that Perry or Bachmann could be a "Trojan horse" for a religious takeover of the government, Keller advocates strict questioning of candidates on doctrinal issues.
Put aside whether there is some bias against Christianity in these baseless charges, or whether liberals are proposing the kind of religious test for office that the Founders explicitly rejected. It has often been remarked that, given today's terrible economy, Barack Obama cannot run in 2012 on the theme of hope, as he did in 2008. With his record, he'll have to run on fear -- that is, on convincing voters that Republicans are just too scary to elect.
This is what running on fear looks like. Could the president's political strategists be anything less than delighted with the work of Keller and his colleagues?
Out on the campaign trail, Democratic activists are trying to maneuver the candidates into statements to feed the Republicans-are-religious-nuts narrative. For example, in New Hampshire a few weeks ago, a young boy approached Perry with a series of questions about science. How old is the Earth? the boy asked. As Perry answered (he said he didn't know), the boy's mother pushed her son to confront the governor. "Ask him about evolution," she ordered the boy. "Ask him why he doesn't believe in science." Perry's answer -- that evolution is a theory that has "some gaps" -- provided more material for Keller and the subject-changers.
Elsewhere on the trail, so-called "trackers" from the liberal think tank Center for American Progress, David Brock's American Bridge, and other organizations follow Republicans around, sometimes posing out-of-the-blue questions in hopes of throwing a candidate off message. "It's all about homosexuality, Islam, anything that is remotely sensitive socially," says Ellen Carmichael, spokeswoman for frequent target Herman Cain. "That's what they usually ask about."
Not even the longest of longshot candidates is immune. Back in May, former New Mexico Gov. Gary Johnson spoke at a Tea Party rally in Greenville, S.C., touting his record on job creation and cutting spending. After Johnson's talk, a staffer for the Center for American Progress approached him with questions about Shariah law. Johnson was baffled.
Meanwhile, with the economy still tanking, some liberal commentators have worked themselves into a virtual panic over religion. On Wednesday alone, one
Washington Post
columnist declared flatly that "Rick Perry is a theocrat," while another discussed the urgent task of "saving America from Rick Perry."
Will these diversionary efforts succeed? Political journalists can talk about theocracy all they want, but Americans are still overwhelmingly concerned with jobs. The more hysterical the religious speculation becomes, the more voters will be able to spot an effort to change the subject.