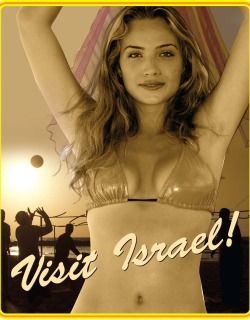 Sexy Photo Shoots Amount to Marketing Mission Impossible
The thousands of scantily clothed bikers, skateboarders, walkers, hawkers, gawkers and performers were simply taking advantage of another breezy, crystal clear Southern California day. They had fought their way valiantly through relentless freeway traffic to participate in the year-round weekend ritual of parading down Los Angeles' bohemian thoroughfare, the Venice Beach boardwalk.
This was not a place you would think would inspire deep thoughts about Israel's increasingly desperate efforts to brand itself - and the wastefulness of all the dollars contributed by American Jewish organizations to mount a defense in the media of the Jewish state. But that's exactly where my mind went when I came upon a food truck dispensing thousands of little containers of hummus.
Along a stretch of Venice Beach, tables were set up, covered with colorful tablecloths and bowls of fresh limes, lemons, red peppers and other fruits and vegetables. Hundreds of young people were seated, giggling and diving into their free samples.
Signs were posted that this event was sponsored by Sabra Foods, the makers of "Mediterranean Dips."
Without a day-school education or perhaps a distant memory of Leon Uris'
Exodus
, one would have no idea that "sabra" meant native-born Israeli. And nowhere on any of the packages did it say that Sabra was anything other than the product of an American distributor. So I pulled out my smart phone and did a quick Google search. I found that Sabra Foods is owned by Pepsico Corporation. But as I searched further, buried under other information, I read that Sabra is a joint partnership between Pepsico and Strauss Foods. The next Google search brought up Strauss Foods of Israel.
Why is the national identity of Sabra Hummus not clearly stated right on its label, like the pride with which spicy red tomato sauces are called Mexican Salsa? Or tomato sauces with garlic and oregano are called Italian Tomato Sauce? Or Indian Curry? Or Greek Olives? Or Turkish Delight? Certainly not because other Middle-Eastern nations can also claim hummmus as their own cuisine. The Turks and Greeks claim everything each other cooks. The same with the Indians and Pakistanis, as well as Mexicans and all their Central American neighbors.
Is the Israeli-ness of the hummus hidden because of boycott fears, legitimately fueled by the smashing of Israeli wines in Europe and Canada? Perhaps. But isn't America supposed to be the last bastion in the world of big Israel supporters?
I don't blame Strauss Foods for positioning these product lines in America as "Mediterranean." They're in the business of selling food, not selling Zionism. The unfortunate truth, though, is that "Israel," associated with anything except hi-tech and security products, is proving to be an increasing liability, especially when it is identified with mass consumer goods. Even with all the efforts of Camera, the Israel Project, the Jewish Federations and all the other organizations that blast my email inbox daily with defensive statements,
Israel is increasingly emerging as the world's pariah nation.
Yet, as strange as it may sound coming from a marketer with an advertising background, who has represented hundreds of Jewish organizations worldwide, I have arrived at the conclusion that the solution will not be found in branding, marketing, public relations or the writings of political pundits. The problem is that all their concepts, strategies, words and legitimate defenses - no matter how powerful and clever - are not going to elevate Israel's plummeting image. Hundreds of thousands of dollars from donors and the Israeli government have been poured into this effort, yet the situation only worsens every month. I am as much to blame as anyone for being a supporter of these actions.
It has become clear that the world doesn't care about Israel's wines, its Bauhaus architecture, its fashion, its alluring women, its sexy gay men, its beaches, its ballet or its hummus.
The world, its media and its university campuses are riveted upon Israel's relationship with the Palestinians as well as the state of its democracy.
No, the answer to Israel's image problems does not depend upon the marketing. It depends first upon the policies.
Something is proving wrong with several of the ingredients in Israel as a product. The policies - whether we argue they are right or wrong internally - are spoiling the taste for the world consumer as well as for many in a new generation of young Jews, even those who have been on Birthright. This is not a left- or a right-wing opinion. It is a fact. No matter how Israel markets or defends itself in the media, the policies seep into the equation and kill the success of the image.
Do I have the answer for how to fix the policies, or even which policies need fixing? No. But I'm not a politician. I'm an adman and a marketer. And I can tell you, from my years creating ads for products from Coca Cola to Apple Computer, if people keep reading about some bad ingredients in the ketchup, very few people will buy the bottle, no matter how much money and creativity you pack into the marketing. No amount of branding, slogans, viral ideas or clever engagement is going to lead towards the success that supporters of Israel need.
What I can say is that Israel, and those who love her, need to take a hard, honest look in the mirror and uncover the deeper problems, the ones that cannot be fixed with a better logo. The loss of "Israeli" hummus might not seem detrimental right now. But that scene on Venice Beach might be a sign of things to come, when it's more than just the producers of hummus who refuse to identify with Israel.