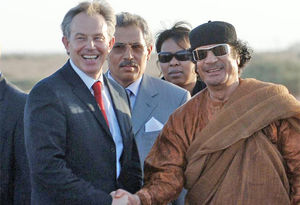 British Tornado jets fired cruise missiles overnight at a headquarters in deposed Libyan dictator Muammar Gaddafi's home town of Sirte, the Ministry of Defence (MoD) said on Friday.
"At around midnight, a formation of Tornado GR4s ... fired a salvo of Storm Shadow precision guided missiles against a large headquarters bunker in Sirte," it added in a statement.
The Tornadoes took off from RAF Marham in Norfolk, eastern England, it added.
Editing by Jon Boyle
.