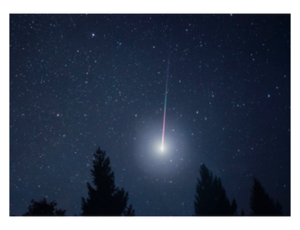 A number of southern Manitoba residents noticed something unique in the sky last night. Scott Young is an astronomer at The Manitoba Museum, and shares they've already received quite a few reports.
Young tells us people were able to watch it for a few seconds, and it was one of those once in a lifetime kind of experiences. If you did witness it he says consider yourself one of the lucky ones. Young explains they are currently collecting as many as reports as possible, and have activated their meteorite search team. He adds even if they narrow it down they'll be covering a lot of ground and that takes a lot of people. Anyone interested in volunteering in the search can contact the museum.
He shares only 13 actual meteorites have ever been found in Manitoba even though people bring potential meteorites to the museum once a week, and have for 40 years. Young tells us they receive calls daily about events or sightings in the night sky.