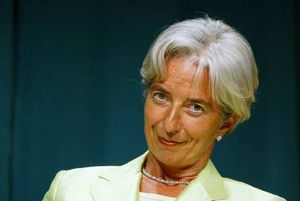 A French court which is investigating International Monetary Fund chief Christine Lagarde has cited "anomalies and irregularities" in her decision to approve a huge payment to a businessman when she was finance minister, a French news website said.
Mediapart published a 9-page court document explaining the legal reasoning behind an August 4 ruling that Lagarde should be placed under investigation for approving the 285 million euro payment to Bernard Tapie, a friend of President Nicolas Sarkozy.
The document by a commission of three judges at the Court of Justice of the Republic, which has special powers to judge ministers, states that Lagarde appeared to have contributed to events whose legality was uncertain.
"The minister seems to have personally contributed to the events, notably by giving voting instructions to the State's representatives" in the arbitration procedure, the court document published on Mediapart read.
Tapie alleged that former state-owned bank Credit Agricole had defrauded him in the 1993 sale of his stake in Adidas. He had lost the case in France's top court in 2006 and was appealing the decision when Sarkozy won power in 2007.
Lagarde, who denies any misconduct, dropped the legal case against Tapie despite objections from some ministry officials and pressed ahead with an arbitration process, arguing it was needed to resolve the long-running case swiftly.
She is now being investigated for complicity in misappropriation of public funds. There is no suggestion she profited personally in any way from the final settlement.
The probe is highly awkward for the IMF, which appointed Lagarde in June a few weeks ago to take over as managing director from Dominique Strauss-Kahn, who is fighting charges that he tried to rape a New York hotel maid.
The Court of Justice of the Republic, which formally opened its investigation on August 16, questions the legality of the decision to bring Tapie's case into arbitration while he was still appealing his defeat against Credit Agricole in court.
It criticizes the size of damages paid to Tapie -- which exceeded the payment recommended by France's top court in 2006 -- as well as a final sentence that "almost entirely" went in the direction of Tapie's demands at the expense of the state.
An official at the Court of Justice declined to comment where Mediapart's document might have come from.
Mediapart is an investigative news web site which frequently reveals sensitive documents, including in the recent case of a scandal involving L'Oreal heiress Liliane Bettencourt.
It declined comment to Reuters on how it obtained the document.