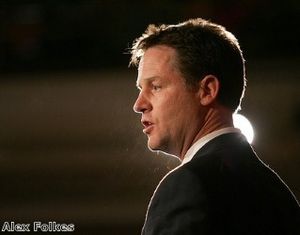 Nick Clegg made his first major foray into the political debate over the riots today, with a speech branding them an "attack on liberty".
The deputy prime minister was in danger of being overshadowed yesterday as David Cameron and Ed Miliband both made speeches laying out markedly different responses to the violence which rocked England last week.
"Crime and lawlessness deprive ordinary, decent people of their freedom," he said.
"Violence and disorder are an attack on liberty, on the freedom of individuals to live and work in peace in their own communities."
The Liberal Democrat leader called on offenders to be forced to meet their victims as part of their punishment.
"Those people who behaved so despicably last week should have to look their victims in the eye," he will say.
"They should have to see for themselves the consequences of their actions and they should be put to work cleaning up the damage and destruction they have caused so they don't do it again.
"We want their future behaviour to change. We need punishment that sticks."
Mr Clegg also suggested that rioters be made to do work in the community wearing high visibility orange jackets.
The deputy prime minister has taken a backseat role during the debate on the riots, leading some commentators to note that yesterday saw a full return to a Labour/Conservative conflict, with the Liberal Democrats relegated to the sidelines.